Like a beautiful patchwork quilt of pink this algae farm looks not unlike an abstract painting from the air.
The colour is the result of micro-organisms in the salt lake which produce tonnes of beta-carotene, a versatile pigment used in everything from ice-cream to nutritional supplements for pregnant women.
British photographer Steve Back, 46, captured the snaps while chartering a plane over Hutt Lagoon in Western Australia.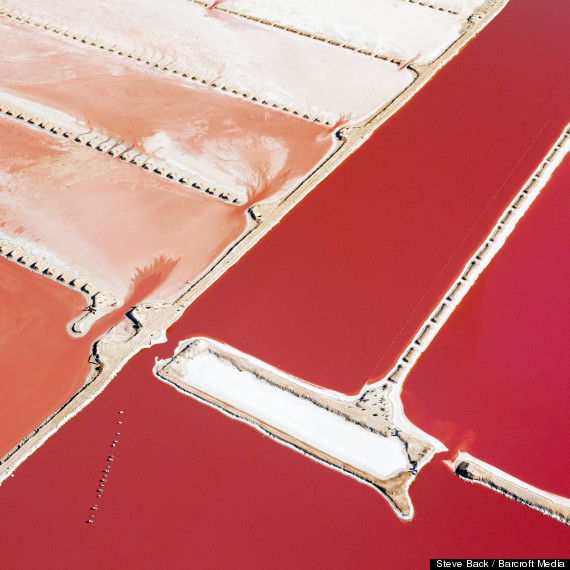 Hutt Lagoon is about 14km in length long, 2km wide and about 1m deep throughout
Back, from St Albans, Hertfordshire, described the images as having an "unworldly quality" and similar to works by American artists Mark Rothko and Jasper Johns.
He said: "From the ground, the pink colouring is not too evident and a little unimpressive, yet from the air it looks fantastic.
"I think that I also hit the right time of day.
"We flew over the lagoon a number of times and I took a series of abstract compositions.
SEE ALSO: Lake Retba In Senegal Looks Like A Giant Strawberry Milkshake
"My favourite things to shoot are ones that create a slight sense of the unreal, challenging the viewer with their known and unknown elements.
"These are landscape but the colouring is out of this world and at first sight it is not easy to tell whether they are close-ups or from far away."
Hutt Lagoon is about 14km in length long, 2km wide and about 1m deep throughout. The varying shades of colour are the result of man-made divides which cause varying concentrations of algae.
Back, who now lives in Bondi Beach, Sydney, said the photographs have not been manipulated, except to account for atmospheric haze.