Is it possible to survive, just on social media? One man believes it is possible, but you don't always get what you expect.
Rory Barker has spent the past four days alone in a room, with his every move streamed on YouTube, surviving entirely on what people and companies send him via social media - including food.
His only contact with the outside world is his 'Man On Couch' Twitter and YouTube, but has put out pleas for people to feed, clothe and entertain him, and some pretty famous celebrities and brands have responded.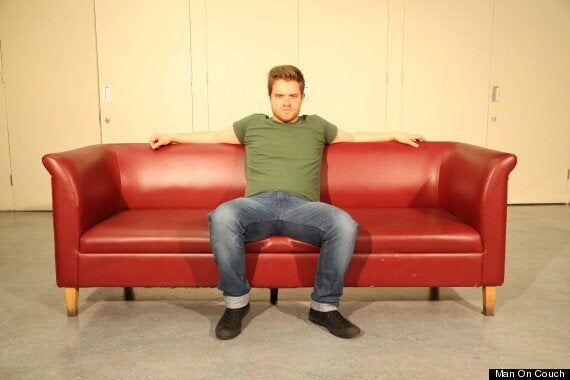 Rory Barker, the 'Man On Couch'
Barker, a TV producer who is better known as James May's sidekick on the TV show ManLab, says his project has attracted "more celebrity cameos than Operation Yewtree."
He leaves the room only for four five minute toilet breaks, he told HuffPostUK.
"Since I've come in it's been quite hectic, I'm happy to have some genuinely loyal fans who watch me all day it seems inlcuding at night when I'm sleeping," he said. "I've had screen grabs of me sleeping emailed to me to prove it."
Food hasn't been an issue, but he does need more fruit and vegetables. "At first I thought the biggest test of survival would be the lack of food and drink but that's the one thing that I'm literally getting piles of. I've already had seven pizzas ordered in to me."
"Seven pizzas in four days obviously isn't easy. I've had treadmills sent to me, fruit machines, tables, lots of tech and loads of new clothes.
Barker has also invited people to teach him new skills, including beatboxing.
"Celebs have been popping into see me, we've had two actors from the Game of Throne Finn Jones and Oona Chaplin (Charlie Chaplin's granddaughter), James May, Bruno Tonioli, and Ollie Locke from Made in Chelsea," he said.
It may not be the end of the road for Barker's time on the couch, if he gets more than one million hits on his YouTube page, he will stay in the room for another seven days. "We would love man on couch to keep growing and growing, even if that does mean I'll be in this room for the rest of my life," he said.