Britain's wealth of secondhand bookshops are going out of business "at a frightening speed", an expert has warned.
A generation brought up on ebooks happily browses the internet but has little interest in browsing the dusty pages of the past, according to rare book expert Matthew Haley.
The head of books, maps and manuscripts at Bonhams spoke today of his fear for the future of Britain's stand-alone secondhand book shops.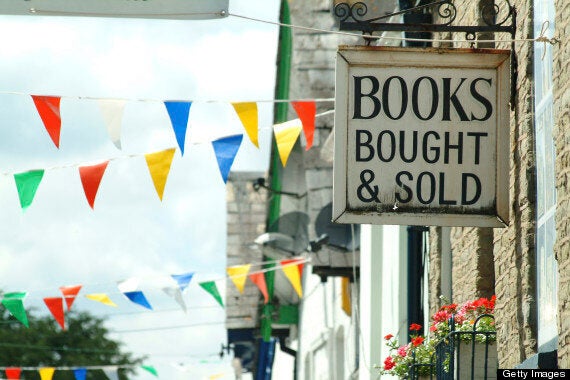 A book shop sign in Hay on Wye, Powys, Wales
Addressing the Hay Festival of Literature, he suggested Britain's legion of secondhand bookshops are becoming rarer than the books they sell.
The centuries-old tradition of browsing dusty shelves for bargains or out-of-print gems could soon be a thing of the past.
"Secondhand bookshops are closing at a frightening speed," a told an audience, which had earlier groaned when he admitted owning a Kindle.
"I fear that we are going to see an end to the serendipity of browsing along a shelf and finding a book that we want, but did not know that we wanted, until we found it."
Despite the downbeat assessment, he suggested towns such as Hay-on-Wye have a secure future as a secondhand book hub.
The mid-Wales town, set amid lush rolling fields, is home to almost three dozen secondhand bookshops.
As a Mecca for bibliophiles the town gave rise to the highly popular festival of literature which runs nearby for 10 days every summer.
"As long as you can make it an experience then people will come," Mr Haley said, with regard to the secondhand book business in Hay.
He added: "It is the little bookshops in little towns in the middle of nowhere that I fear for."
He said, however, that the "electrification" of the world of secondhand books and manuscripts had not been all bad.
Google books had transformed the amount of information available to anyone about any given book at the click of a mouse.
Better knowledge of the availability of rare books has given everyone a better idea of what a work is worth, he added.
Googling inscriptions often inside the covers of rare books can reveal a mountain of detail about a book's previous owner, he said.
"You can find a huge amount of information about a book's previous owner and we can learn so much that we would never have known before."
He added: "A book is about the most Google-able thing you can have.
"When you open a book up, inside it tells you the title, it says who the author is and when and where it was printed."
He said books are easy to catalogue and collate and the internet is full of information about them: "Books lend themselves to databases."
Prices of secondhand books and manuscripts have also risen because online sales have meant that more people
But even when rare bargains come on the market they can be overlooked, he warned.
A rare letter written by Bloomsbury author Virginia Woolf was sold on an auction site in Connecticut for 7,000 US dollars (£4,615), Mr Haley said.
It was addressed to Clive Bell, who would later become Woolf's brother-in-law, and spoke of her first book at the start of her writing career.
"I thought that it was worth about double what it sold for," he told the audience.
Within a year, however, the letter, originally sold to a New York dealer, was up for sale again through Bonhams, where it sold at auction for £18,000.
The buyer was a west coast American who lived near Connecticut.
Related