An apparent pricing error on Amazon has caused shock on social media, after it suggested the Xbox One version of FIFA 14 might cost as much as £90.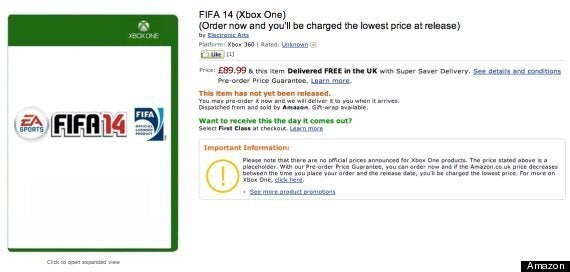 The new version of EA's best-selling football game has already been announced for next-generation consoles, including the PS4 and Xbox One.
The Xbox One 'Ultimate Edition' will have exclusive content, as revealed by Microsoft at its console unveiling last week.
Details such as price and release date have not been released - leaving retailers to take their best guess.
And while Amazon guarantees on its site to match the lowest price offered at retail for the game - indicating that £90 will not be the price of Xbox One titles - that wasn't enough for many on Twitter and Facebook:
Needless to say, the game won't necessarily cost £90, and other retailers have it closer to a standard £39.99.
Amazon has also priced the Xbox One at the very high mark of £599.99 - despite the strong likelihood that it will cost much less when released in the Autumn.
Related