A Madrid town hall has decided to box up dog poo and mail it back to the offending owners to clean up its streets.
The town of Brunete recruited 20 volunteers to take patrol the streets as part of the imaginative scheme, reported the Local.
"They'd ask them what the dog's name and pedigree was. With that information they could find out the address of the dog's owner from a registered pet database we have," Brunete's Town Hall spokesperson told The Local.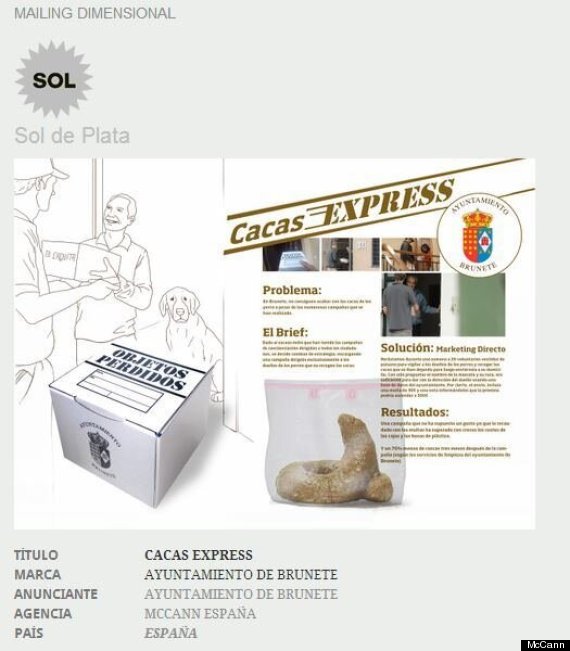 Plans for the mail-order poop
The offending poop is then be packaged and mailed, along with a fine, to the guilty party.
Brunete, which has a population of 10,000 people, launched the idea of targeting owners last year, with a novel campaign which saw dog owners chased around by a remote-controlled poo.
Check out owners being chased by remote poop! (story continues below)
It was after this ad campaign died down that Brunete decided to take its more strong-armed approach. And it appears it is successful, with initial results suggesting the amount of dog poo has gone down by 70%.
The campaign has gone viral on social media with people tweeting pictures of dog poo with the hashtag #Cacaexpress asking for the scheme to come to their town. Advertising agency McCann was even awarded a 'Silver Sun' in the Latin American Festival of Advertising Communication for their creative execution of the campaign. Like the volunteers, McCann was not paid for its services, but offered its services for free.
Authorities in Taiwan's New Taipei City also came up with a novel way of solving the all-too-common problem of "street mess" by encouraging dog owners to pick up their pet's droppings and hand them into the appropriate authorities in exchange for a lottery ticket.
Those with lottery tickets had a chance of winning the top prize: a gold ingot worth $2,200 (£1,400).