A racing driver who crashed his quarter of a million Bugatti walked away from the prang - and recovered with a pint.
Bugatti enthusiast Edmund Burgess was competing in the Prescott Speed Hill Climb at Winchcombe in Gloucestershire on 2 June when the brakes on his 1924 T13 failed as he rounded a corner.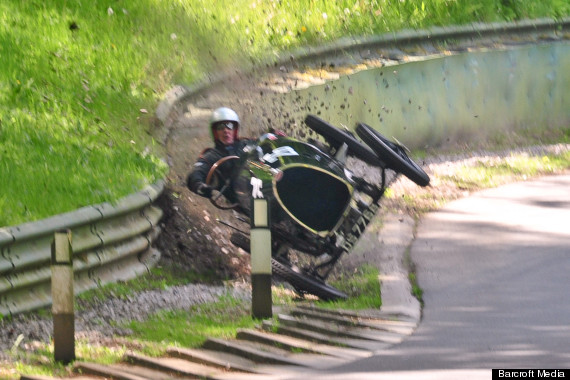 Edmund Burgess and his Bugatti about to flip over
Unable to control the classic valued at more than a quarter of a million pounds, Mr Burgess could only hold on as the Bugatti turned over, his head narrowly missing the armco barrier.
Miraculously, he escaped injury and once he'd dusted himself down and been given the all-clear by the paramedics at the track, the 56-year-old headed straight to the bar.
Mr Burgess hopes to be back in the driving seat in eight weeks - once he has repaired the car, of course.
See the dramatic events in the gallery below.