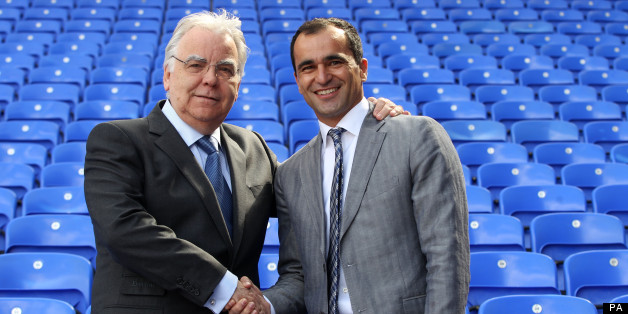 PA
Roberto Martínez has vowed to build on David Moyes' legacy at Everton by guiding the club into the Champions League.
Moyes' Everton finished fourth to qualify for club football's premier competition in 2005 however they were controversially beaten in pre-qualifying by Villarreal.
Martínez has signed a four-year contract at Goodison Park and Toffees chairman Bill Kenwright revealed the Spaniard's bold statement.
"Roberto's first words to me were 'I'll get you in the Champions League'. Then he showed me how he beat Man City in the FA Cup," Kenwright said at Martínez's press conference.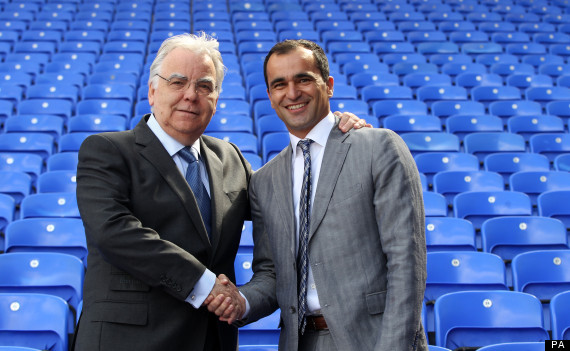 Kenwright welcomes Martínez to Goodison Park
"He understands the game. He understands Everton."
Martínez joked: "The chairman hasn't put any pressure on me by saying he wants to get into the Champions League!
"The chairman hasn't put any pressure on me," he said.
"We have a very strong team and over the next few months we need to get together and make sure we are a winning side.
"Finishing in the top six was magnificent for Everton but we need to achieve more.
"The fans need to know that they are the most important part of this football club. We will wear our heart on our sleeves."
Asked why he had chosen now to leave Wigan, having turned down Aston Villa and Liverpool previously, he added: "It is simple: it came in a natural way. It has been a phenomenal time at Wigan but after four seasons this was the right time and I knew Everton was the right club.
"It has been a natural transition to be involved in such an exciting club."
Kenwright confirmed he spoke to Everton coaches Alan Stubbs, David Weir and Phil Neville about succeeding Moyes before settling on Martínez.
The Everton chairman also admitted one player, believed to be Marouane Fellaini, has a release clause in his contract but the rest of the squad is "not for sale".
Moyes is interested in bringing Fellaini, who would cost £24 million, to Manchester United.