Pippa Middleton harboured dreams of becoming a Wimbledon tennis champion, the Duchess of Cambridge's sister has revealed, in her new column for Vanity Fair.
The sister of the Duchess of Cambridge began her much-lampooned career as a columnist describing how she left Wimbledon clutching a postcard showing the trophy won by Steffi Graf that year.
"I first went to Wimbledon when I was eight years old and already a very keen tennis player," she wrote.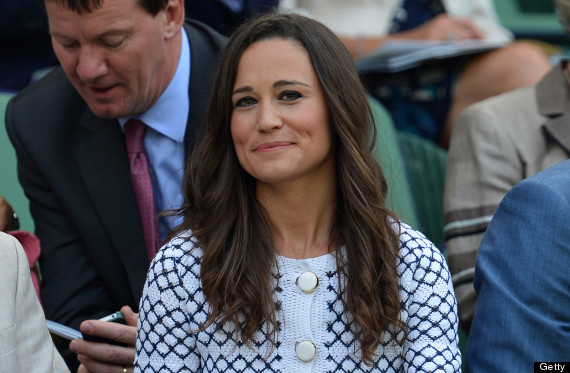 Pippa Middleton At Wimbledon
"During this first trip I acted on my childish tennis dreams and bought myself a postcard of the women's championship trophy, on which I wrote, 'I will win this one day,' with my signature below."
In a few suggestions that could have come straight from parody account #PippasTips, she advises women visiting Wimbledon to abandon their high heeled shoes, and she suggests spectators should find alternatives to driving to the venue like cycling or walking, and not to make plans in the evening in case a match overruns.
She writes: "There's nothing worse than having to leave Rafael Nadal's athleticism for a routine pizza with friends."
Pippa's father Michael left her cringing one year when they had tickets for a Tim Henman and Pete Sampras clash.
She writes in the magazine: "When Tim Henman walked onto the court, the crowd cheered him, and as he walked near our seats my dad mistakenly yelled, 'Come on Pete'."
The advice is accompanied by a photo shoot showing Miss Middleton racquet in-hand and in another picture she rides a bicycle.
Another Wimbledon memory is her queuing with older sister Kate, now heavily pregnant with her first child, on people's Sunday in 2004 to get £35 tickets for Centre Court. "Queuing from five a.m. on 'People's Sunday' in 2004 with my sister for three hours and getting £35 tickets on Centre Court; my first time ever," she recalls.
"Seats were a free-for-all—and I recall almost tripping over myself trying to get as close as possible to my birthday-twin British hero Tim Henman."
She also points out which players to look out for who are "easy on the eyes".
"We're delighted to have Pippa as a contributor to Vanity Fair," said editor Graydon Carter.
"She's a keen observer of classic British pastimes. She is also an avid sportswoman, and we look forward to her take on traditional English pursuits, beginning with Wimbledon."
Middleton also interviews Roger Federer in a short Q&A, getting the "scoop" on what he has for breakfast and whether it's true that the men's and women's champions have to dance together at the Wimbledon-ball after-party.
Pippa Middleton's first issue: