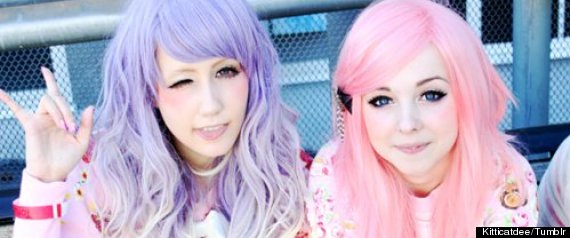 The look may resemble a doll that has met an unfortunate accident with a vat of LSD, but the current craze sweeping over from Japan is Kawaii. It's a mixture of Manga meets colour explosion meets doll (there's a lot of Strawberry Shortcake ruffles), and The Sun reported:
Followers are flocking to conventions, pageant-style competitions and clubs across the UK to show off their style and gain inspiration from other fans.
In Britain, there is an annual UK Kawaii Star of the Year competition, which takes place every July at the Hyper Japan exhibition in Earls Court, London. This year's winner is Scarlett Young who also adores "cute food".
According to Wikipedia and the Urban Dictionary, "Kawaii means pretty, cute, adorable and lovable."
Kawaii requires a strong constitution for all things frilly and cute, and Grace St John, 21, a kawaii lover said in The Independent that it's a reaction to the low-cut tops and short skirts prevalent in UK fashion at the moment.
As reported on IOL Lifestyle, Manami Okazaki, author of Kawaii! Japan's Culture of Cute, says: "It might be appealing to those who don't feel an affinity to the more sexy and glamorous mainstream styles. A Japanese girl would prefer to be called kawaii than sexy or pretty."
If you like hats that resemble frilly tea-cosies and Pokemon onesies, that is.
Take a look at some of the cool kawaii fashion being rocked on Tumblr at the moment: