Warning: Explicit Language
A man who launched a tirade of "grotesque racist insults" in front of rail passengers is being investigated by police.
In footage uploaded to YouTube, the man calls another passenger a "monkey" and a "gorilla", and threatens to glass him with a beer bottle.
Other passengers try to placate the man, who appears heavily intoxicated, and urge him repeatedly to sit down and calm himself.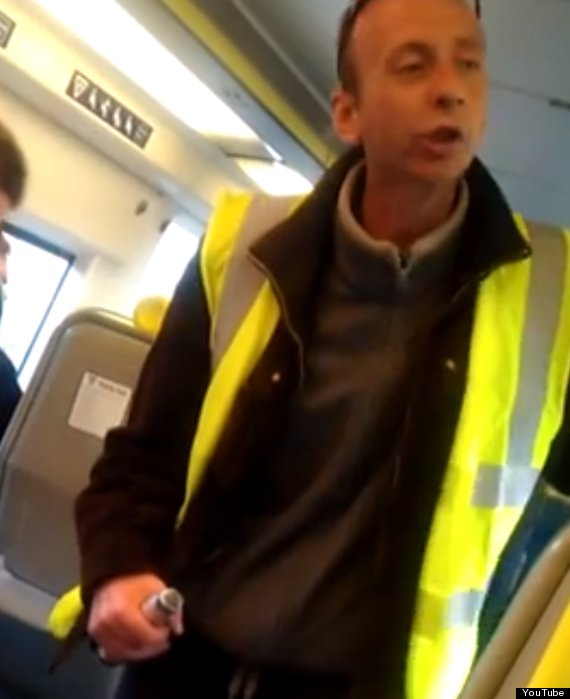 Do you know this man? Call British Transport Police on 0800 405040 with information
Brandishing a bottle, the man tells a passenger: "See that, I will shove that in your f****** eyes." He adds: "I don't like being rudely awaken by a mongrel."
The man, who speaks with a strong Irish accent, goes on to say he is not racist during the two minute, 46 second footage.
British Transport Police (BTP) said they take this type of offence seriously as they appealed for witnesses to the incident on a train near Brighton on May 26.
A spokesman said: "BTP officers are aware of the YouTube video, which was uploaded on Sunday 26 May and was recently brought to our attention by concerned members of the public.
"Everyone has the right to travel without fear of abuse or threatening behaviour and BTP takes this type of offence extremely seriously."
SEE ALSO: Emma West, Mother Admits Shouting Racist Abuse On Tram & Stabbing Partner Ricky Metson In Separate Incident
Train operator Southern said rail neighbourhood officers (RNOs) at Brighton received a call from a conductor to help remove a man from his train.
The man was cautioned for fare evasion and his details were taken but the alleged victim did not want to pursue the matter.
A Southern spokesman said: "One of the RNOs also took a statement from a witness who showed him a short clip of what had taken place on the train.
"The alleged victim did not want to pursue the matter and left the station without giving his details. Bearing this in mind, the RNO decided it did not warrant a 999 call, but reported the incident to his BTP co-ordinator the following day.
"He has provided the British Transport Police with the details of the man he removed to aid their investigation."
Transport minister Norman Baker, MP for Lewes, told the BBC: "I've seen the clip on YouTube and quite frankly I'm appalled that this could happen. People are entitled to ride on the railway without fear of intimidation and grotesque racist insults that we've seen from this individual."
In the clip, the man wears tracksuit bottoms, trainers and a hi-visibility jacket with NTL on the back.
A spokesman for Virgin Media, which relaunched itself from NTL in 2007, said: "The NTL name hasn't existed for six years and the jacket in the video bears no resemblance to the uniform of our engineers. We do not believe this person has any connection with us.
"If he is identified from amongst our thousands of excellent employees, we'll take the strongest possible action as we completely condemn the views expressed in the video."
Anyone with information is asked to call British Transport Police on 0800 405040 or text them on 61016, quoting reference B7/LSA of 05/06/2013.