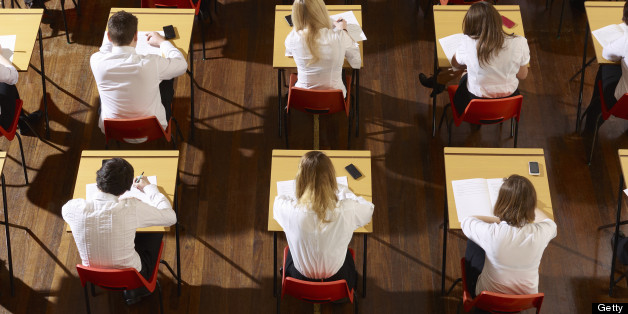 Getty
Marking of GCSE and A-level papers can still be improved, according to a new report by the exams regulator.
In a study, Ofqual said that evidence suggested that while there had been progress, there were still opportunities to improve the quality of marking further.
Teachers and school leaders have increasingly voiced concerns in recent months about the marking of exams, suggesting it is not up to scratch, especially at GCSE.
Last year, private school heads warned that action must be taken to tackle "shocking'' failings in the way exams were marked and grades awarded.
In the wake of growing concerns, Ofqual announced a review of the marking system of GCSEs and A-levels.
In its first report, the regulator said a literature review of recent research on marking had shown that "there has been progress in marking practice".
It added: "However, we believe that there are still opportunities to improve quality of marking further."
This could include using detailed mark schemes to help examiners decide what is a "creditworthy response", using on-screen marking, and having examiners mark individual questions rather than whole exam papers.
Some of these are already being used to an extent by exam boards, the report said.
Chief Regulator Glenys Stacey said: "This initial research shows there have been significant developments in marking in recent years.
"We believe the increased use of on-screen marking is a positive thing, as it allows for more frequent and flexible monitoring of examiners, and reduces the logistical risks.
"We are aware though, that this does bring with it risks of new administration problems, which must be managed properly.
"I was heartened to see that our examiners, some 50,000, are overwhelmingly well educated teachers, experienced in their subject and in marking.
"They play their part in the public institution of awarding and we value and respect the contribution they make.
"As we set out in the report, the biggest factor influencing the reliability of marking is the design of the assessment itself - the style and quality of the questions and the quality of the accompanying mark schemes.
"These are matters we intend to improve as qualifications are reformed."
Ofqual is due to publish two more reports on marking later this year.
In September, a report by the the Headmasters' and Headmistresses' Conference (HMC), which represents leading private school heads, said reforms to GCSEs and A-levels would amount to nothing more than ''houses built on sand'' if ''shocking'' failings in the way exams were marked and grades awarded were not tackled.
Malcolm Trobe, deputy general secretary of the Association of School and College Leaders (ASCL) said: "We are pleased that Ofqual accepts the issues and concerns we have raised about marking quality and that they appear to be taking steps to address them. It is encouraging to see the detail and thoroughness of the analysis so far.
"We have raised concerns about the inquiries and appeals processes, so we are pleased that Ofqual will be reviewing this as the next stage."