This week's student musician is Patrick McCallion of pop rock band Small Words.
Patrick McCallion - Lead Vocals, Acoustic & Electric Guitar. Age 19. Studying Music/Popular Music at The University of Liverpool.
Adam Trevisani - Lead Electric Guitar, Backing Vocals. Age 18. Studying at North Halifax Grammar School.
Tom Kaye - Drums. Age 21. Studying Music at Leeds College of Music.
Matt MacGregor - Keys. Age 20. Studying Music at University of Cambridge.
Jack Walsh - Bass, Backing Vocals. Age 19. Studying Graphic Design at Leeds College of Art.
Patrick took some time out to answer a few questions about what gets him and his bandmates going.
How long have you been playing?
As an outfit, we've been performing together for roughly 4 years. We all met at high school back in our home town of Halifax and have been knocking about ever since!
What genre of music do you play?
I guess you'd call what we do Pop-Rock. There's a slightly political edge to some of our newer tracks but our primary aim is to make catchy tunes that make people want to dance!
Why did you start playing?
We united for a school Christmas concert in 2009 where we did two very average covers of Journey's Don't Stop Believin' and Coldplay's Viva La Vida. It seemed like the perfect excuse to jump about on a stage and be a bit stupid infront of our friends and I think it's this love of live music which has kept us going over the years. It is safe to say that our sound (and taste in music) has changed a lot since then.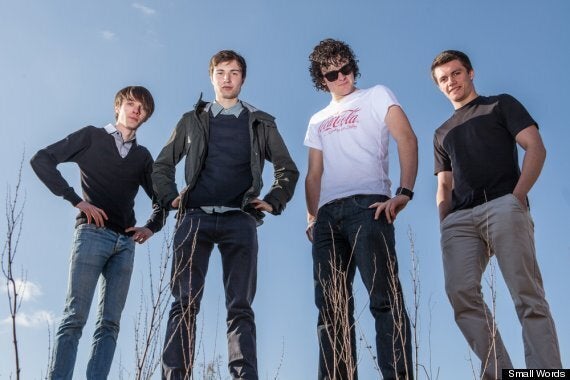 What's your most memorable musical moment?
Last year we had the absolute privilege of performing at the festival called Bingley Music Live, alongside bands we love like Razorlight, The Charlatans and The Pigeon Detectives. It was a proper honor. Mental.
I'd love to go on Jules Holland. It's such an awesome atmosphere and to be able to play with so many cool people in one sitting would just be brilliant. Either Later Live or Hootenanny. Either is fine!
Who's your idol and who would you most compare yourself to? (Dead or alive...)
My idol would have to be Bruce Springsteen. Unlike other musician's from his generation, he's still releasing amazing music. Any 63 year old man who can get up on stage and do a 3 hour show as energetic as his must be some kind of God! I think musically I'd most compare Small Words to bands like The Killers. Like them, we aim to write tracks with a bit of meaning and depth which are also catchy and grooveable!
If you could play with anyone, who would it be?
Again, it would have to be the mighty, mighty Bruce Springsteen.
If you could play at any festival, which would it be?
Seen as though it's the festival that all the guys have grown up with, it would probably have to be Leeds Festival. It always has such an electric vibe and playing on home turf is always a good laugh. Benicassim or Rock Am Ring would also be brilliant.
We're immensely grateful to anyone who enjoys our music, but the guy who showed up to the gig in Liverpool with a top hat and a rubber chicken takes some beating.
What's your all time favourite song?
It's always a toss up between The River by Bruce Springsteen and A Dustland Fairytale by The Killers. Both really beautiful pieces of music that work on so many different levels.