Queen Elizabeth II has officially opened the BBC's newly rebuilt Broadcasting House in London, marking the occasion by giving a rare speech on live radio.
The Queen met TV hosts includings Sir Bruce Forsyth and David Dimbleby during her tour of the high-tech building, which cost £1bn to rebuild.
She was also treated to a performance by The Voice star Danny O'Donoghue in Radio 1's Live Lounge to see his band The Script, however it was hard to tell from her expression whether or not the monarch was impressed.
She gave a single clap at the end of the performance.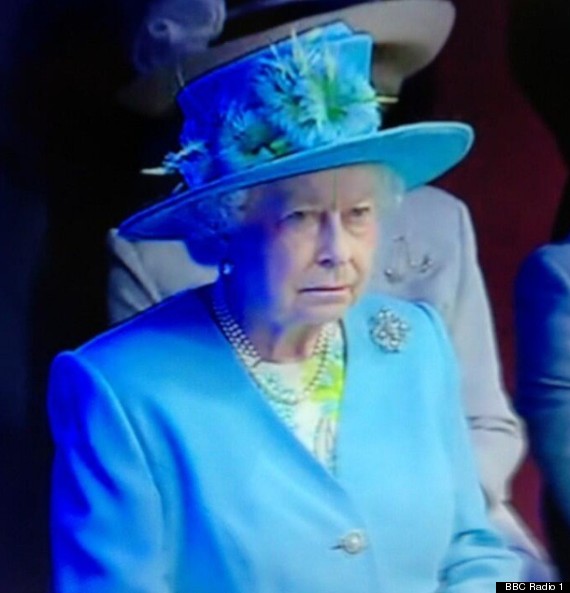 The visit came as her husband Prince Philip was due to undergo abdominal surgery.
In a short address broadcast live by the BBC and around the globe via the World Service, she referred to a previous visit to Broadcasting House with her husband shortly before her coronation 60 years ago.
She said: "I was struck then, as I am now, by the sheer pace of change which has transformed your industry over the past 60 years, years during which broadcasting has enriched our lives in so many ways."
In a live broadcast on a BBC Radio 4 programme about the development called New Broadcasting House, presented by James Naughtie and Sian Williams, she said: "It is a great pleasure to visit the BBC today, and to see it in its new home.
"I remember first coming to Broadcasting House with my father the King and my mother and sister shortly before the war.
"I came again with the Duke of Edinburgh shortly before the coronation in 1953."
She added: "I hope this new building will serve you well for the future and I am delighted to declare it open today."
Director-general Tony Hall and Lord Patten, chairman of the BBC Trust, showed the Queen around the building, where she was also presented to Danny Cohen, the corporation's director of television.
The BBC has spent the best part of a decade overhauling Broadcasting House to provide a huge new wing and update the facilities, transferring many of the staff from Television Centre in west London which has now closed.
The last time the Queen visited Broadcasting House was seven years ago to mark the 80th anniversary of the corporation's Royal Charter. During today's live radio broadcast she will declare the building open.
She has also made four other visits, with her first in 1939 when she was still Princess Elizabeth, accompanying her father King George VI.
Today she will also visit the World Service as well as heading to the floor of the BBC newsroom to meet staff.
Appropriately, during the 60th anniversary year of her coronation, she will be shown a camera used to cover parts of the ceremony.