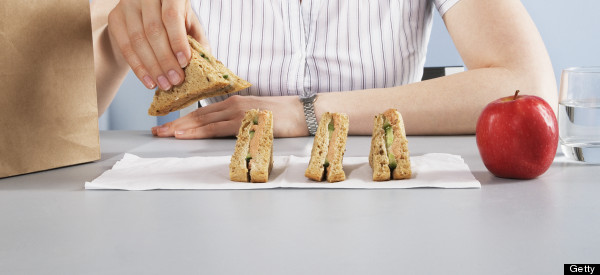 Alright, 'fess up. Are you having the same lunch that you've had almost every single day for the past year? If you are, you're by no means in a minority - according to a recent study, almost 70% of us end up having the same lunch despite the best of intentions.
Like make-up ruts, lunch ruts are caused by a lack of time and stress at work. And, it's easier to stick with what you know.
Seven in 10 people said that it was 'easy' to eat the same thing every day, and cost also plays a big part in lunching. At the more extreme end, 1% of the 2000 women polled took the same lunch every day for the past 25 years.
HuffPost UK Facebook fan Caroline Marshall revealed she has crisp bread, yogurt, cream cheese and fruit, while Frederick Robinson reveals: "At home, rather than the office (I'm retired) I usually cut a roll into two halves, spread houmous on them, then chicken, turkey, ham or similar with mustard, topping it all with either sliced tomatoes, pepper and chives, or cold sauerkraut. De-licious!"
But, with 71% of us take a packed lunch every day, there's no reason to get stuck in a lunch rut. Here are some dee-licious lunches from Twitter. There's no excuse for that limp BLT in the future...
This is proper traditional...
While this may be the most elegant lunch we've seen today:
Love the idea of steak for lunch...
But should probably stick with the couscous below.
Healthy ingredients to include in your lunch: