Rafael Nadal has become the first player to win a Grand Slam eight times after a straight-sets French Open final victory against David Ferrer.
Following his four hours and 37 minute marathon match with Novak Djokovic on Friday, the Spaniard enjoyed a straightforward defeat of his compatriot at Roland Garros, winning 6-3 6-2 6-3.
It was Nadal's third straight-sets final win in a French Open final after his 2008 and 2010 eviscerations of Roger Federer and Robin Söderling.
Nadal, 27, has lost just once at the French Open in his nine years at the clay court major, Söderling in 2009.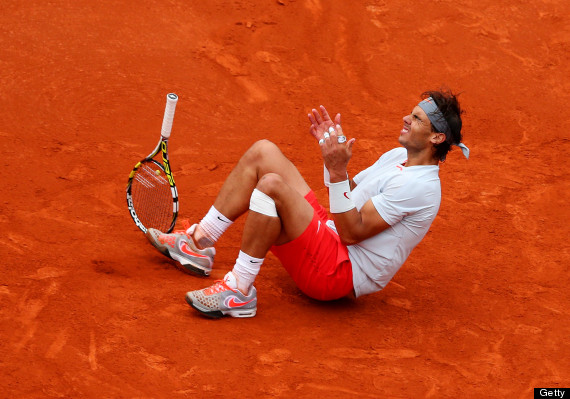 Nadal reacts after his eighth win at Roland Garros
After last year's shock Wimbledon loss to Lukas Rosol signalled a seven-month injury lay-off, the Coupe des Mousquetaires triumph re-emphasises Nadal's sensational comeback.
The 12-time major winner said his enforced hiatus made the victory sweeter.
"It's one of the most special ones. Last year, we had a low moment and if the people, my family and my team, were not with me this would be impossible. All the messages I received gave me a very positive energy."
The final was dramatically interrupted in the second set by a masked protester carrying a flare who jumped onto Court Philippe Chatrier but was quickly tackled by security staff.
Nadl has won 44 matches and lost just twice this calendar year, claiming seven titles.
He will bid to win his third Wimbledon major later this month.