Apple's launch of iOS7 came as company announced the arrival of iTunes Radio, a service expected to rival the likes of Spotify.
The free Internet radio service will feature more than 200 stations and offer users an experience based on the music they listen to or download.
A spokesman said: "The more you use iTunes Radio and iTunes, the more it knows what you like to listen to and the more personalised your experience becomes."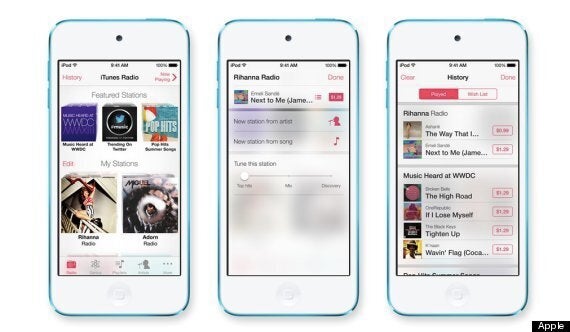 The service is set to offer music fans access to thousands of new songs every week and exclusive music from new artists before it is played elsewhere.
Eddy Cue, Apple's senior vice president of internet software and services, said: "iTunes Radio is an incredible way to listen to personalised radio stations which have been created just for you.
"It's the music you love most and the music you're going to love, and you can easily buy it from the iTunes Store with just one click."
The American technology giant has integrated its Siri feature into iTunes Radio to enable users to pose questions relating to the tracks they listen to, such as the name of an artist.
A second service, iTunes Match, offers users a similar experience, devoid of advertisements, at a cost of £21.99 for a year, Apple said.
But Apple's rivals said that the Californian giant was playing "catch up".
Nokia entertainment VP Jyrki Rosenberg said:
"We launched our streaming radio service in 2011. It's interesting to see Apple react now and it seems they continue to play catch up. Nokia Music will stay true to our mobile-first approach and continue to deliver an extremely simple, personalised and contextual way to discover and enjoy music on the go."
Popular in the Community