A dog who lost her snout saving two little girls from being hit by a motorcycle has been greeted with a hero's welcome on her return to the Philippines.
Kabang arrived in Zamboanga City on Sunday after eight months of medical treatment in the United States.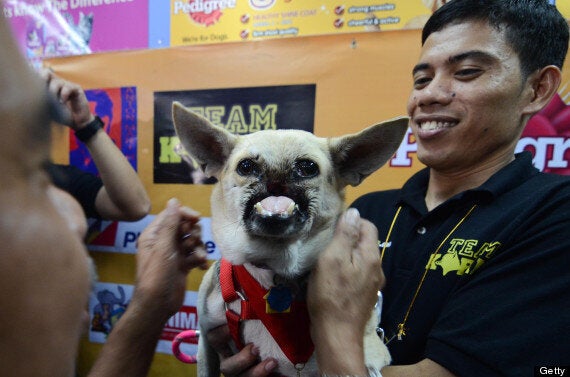 A veterinarian helper holds Kabang upon her arrival at a vet center in Makati City on Sunday
Kabang's duties will include being "an advocate of animal welfare, pet ownership and responsibility not only in Zamboanga but nationwide," the newspaper added.
Kabang suffered her horrendous injuries after she was run over in December 2011. The two-year-old mixed breed had leapt into the path of the bike to apparently stop it from running over her owner's teenage daughter and niece.
An account of her accident on the website Care For Kabang reads: "The brave dog's face was severely injured in the impact because she struck the motorcycle head on.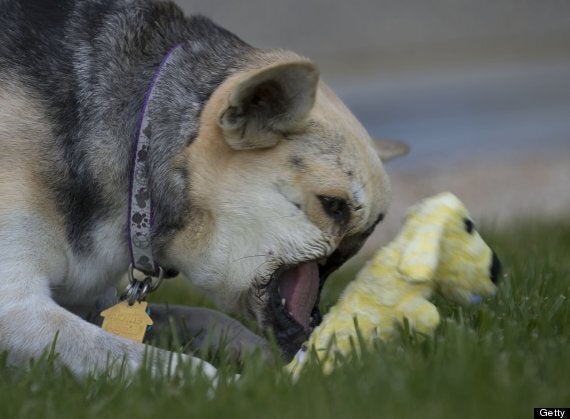 Kabang nudges her teddy through the grass
"The children were unhurt and the motorist had a few bruises, but Kabang lost the entire top part of her mouth. Tragically, the heroic leap planted her snout directly into the wheel of the motorcycle. When the bike flipped, her snout and jaw was ripped from her face."
Though doctors performed extensive surgery on Kabang's wounds, they were unable to reconstruct her jaw or snout, the Associated Press revealed.
Kabang's owner Rudy Bunggal told Inquirer News he was grateful for the donations for his dog's surgery and admitted he had received offers to adopt her.
While Bunggal has expressed fears about how he will support Kabang, her vets have confirmed they are looking into how to help the family best take care of her.