As good a job David Moyes did as Everton manager, moulding them into a competitive and resilient side always hungry to improve, he fell short of making that final stride with the Toffees. Everton always failed the acid test in Moyes' most crucial games: the 2005 Champions League qualifier, the 2009 FA Cup final and the 2012 semi were a mixture of naivety and negativity. Sir Alex Ferguson proclaimed United had replaced him with "a winner" when evidence suggests otherwise.
Roberto Martínez can technically claim to be a winner, despite his own naivety compromising Wigan Athletic's Barclays Premier League status. Supporters fell back in love with FA Cup win thanks to the Latics' win, which included their sixth-round evisceration of Everton. A number of disgruntled Blues that day publicly aired their hope the Spaniard would be the club's next manager.
Champions League aspirations, however unlikely, will augment the club's hunger, rather than sustain it. Everton are one of the most patronised clubs in English football when they boast more titles than Chelsea, Tottenham Hotspur, Manchester City and Newcastle United. Goodison Park is sold out every week and it is mainly the ownership issue which is thwarting the their efforts to compete at a higher level.
In Martínez Everton have appointed a coach with an excellent track record in the transfer market. Adept at identifying cheap gems from the Primera Liga, the hope among Bluenoses is he has his own Michu in mind already: a gem to bolster a squad that is worryingly blunt up front.
Essentially, Everton's top scorer last season was a defensive midfielder and it is possible they will be deprived of Marouane Fellaini under Martínez after chairman Bill Kenwright advertised his buy-out clause. A striker is perhaps the difference from the club making a tangible assault on the top four, rather than existing as a frivolous token gesture.
A goalkeeper. Tim Howard has been an ever-present in the team for seven years, and while continuity breeds security this is not exactly a positive. Howard is prone to dropping clangers and has become notoriously erratic when handling distant shots. Jan Mucha - who never offered the American competition - has been released, but Everton require a competitor, rather than an understudy.
Left-back. Leighton Baines started every league game last season and unsurprisingly tired towards the end. He effectively occupies two roles on the left and the outstanding full-back needs the odd breather as much as he deserves it.
Centre-back. Although Phil Jagielka and Sylvain Distin have matured into a solid, if underrated, partnership, Johnny Heitinga seems destined to finally end his stay on Merseyside this summer, leaving Everton woefully short of cover for their two artisan defenders.
Wingers. Everton have long boasted a plethora of midfielders and even when Moyes brought in a winger they were often played centrally. That Leighton Baines and Seamus Coleman - the full-backs - offer their best outlets out wide is an indication of the paucity of options they have.
Strikers. Nikica Jelavić remains a classy addition but his seven goals and sheer loss of confidence left Everton bereft of a reliable figurehead. Victor Anichebe is a workhorse who offers little or no goal threat and Apostolos Vellios is unlikely to be given the chance to distinguish himself as a regular starter.
Anders Lindegaard. The Dane's confidence at Manchester United has been shot to bits since Reading exposed his aerial fragility before Christmas and David de Gea could enjoy the same security Tim Howard had under David Moyes. Lindegaard, however, performed well in his first year at Old Trafford and is capable of recovering.
Chico Flores. The Spaniard enjoyed a fine debut season with Swansea and although there is the obvious fear he could succumb to second season syndrome, he offers excellent competition and cover.
James McCarthy. Although a central midfielder, McCarthy would be an upgrade on Everton's incumbents, including Fellaini. Tenacious, skilful and boasting perceptive awareness, Martínez said earlier this year he is a £10m player, but is he prepared to pay that for him?
Callum McManaman. McManaman came to prominence in the spring of the season but he was a revelation. The Scouser is a mercurial but exciting winger who was released by the Toffees earlier in his career. A homecoming would be welcomed by player, Martínez and Evertonians.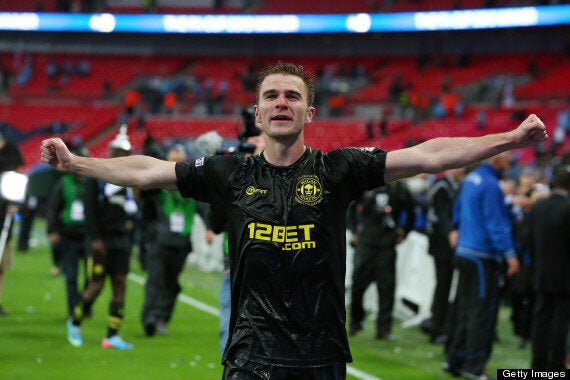 McManaman was man of the match in the FA Cup final
Victor Moses. Technically one of the best forwards in the Premier League, Moses' unreliable end product is unlikely to be entertained by José Mourinho at Chelsea. Martínez, however, embraces rawness and mentored Moses magnificently at Wigan.
Arouna Koné. One of the underrated buys of last summer, Koné scored 13 goals for Wigan and is exceptionally selfless. His hold-up play in the FA Cup final was instrumental in Wigan's vibrant attackers making hay and, despite his age (29), the Ivorian would offer Everton a sharper edge up front.
Roberto Soldado. At 28, Soldado is in danger of going stagnant at Valencia. He scored 30 goals last season for Los Che and could be the coveted 20-goal striker Everton have not had since Yakubu's zenith.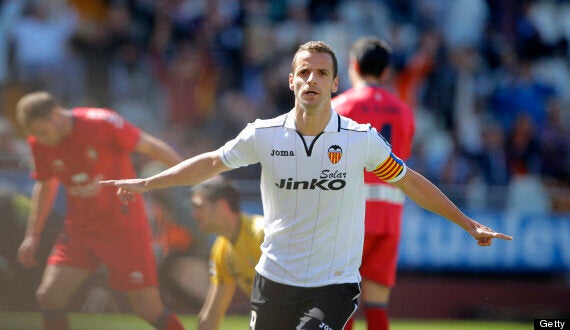 Soldado is a Spain international
Johnny Heitinga. In three successive games last season Everton conceded six goals and Heitinga was culpable for two-thirds of them. Although a decent defender who has occasionally excelled as a defensive midfielder, he declined a recent contract renewal and his current deal expires in 2014. It is essential Everton get a fee for the 29-year-old this summer.
Marouane Fellaini. There are few worth shifting from Everton's squad and while Fellaini is not a player any Evertonian should want to lose, his £24m fee would, so Kenwright says, be re-invested into the squad. Long term, it may make sense if Martínez bought well.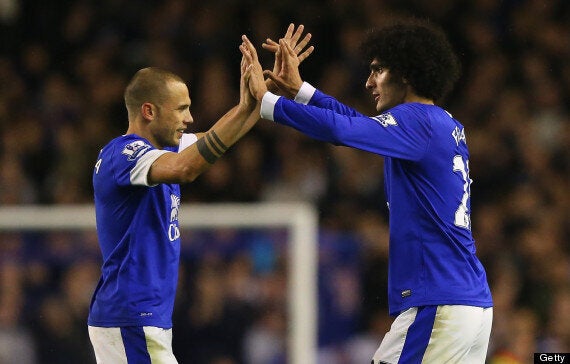 Steven Naismith. Few players who score in a Merseyside derby can still be unpopular, but Naismith is. One of Moyes' worst signings, his existence is a reminder of some of the dross Walter Smith brought to L4.
Victor Anichebe. An undoubted trier, Anichebe is nevertheless not good enough for the level Everton to aspire to be at and is not mobile enough for a Martínez side. If strikers arrive his days are likely numbered.