Colin Montgomerie believes Sergio García could face a hostile reception at this week's US Open, even though the Spaniard has taken another step towards settling his differences with Tiger Woods.
During a Q&A session involving the full Ryder Cup team, the 33-year-old was asked if he would invite Woods to dinner one night at Merion to end the feud between them, which resurfaced at the Players Championship.
"We will have him round every night," García said. "We will serve fried chicken."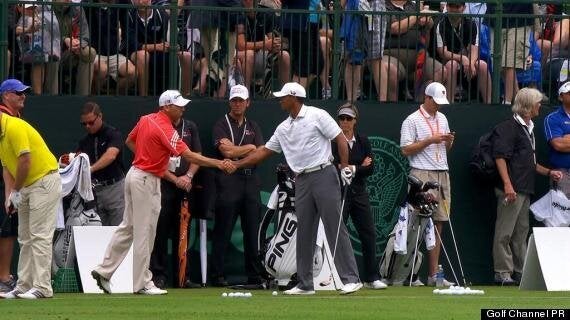 García and Woods shook hands at the driving range on Monday
García initially issued an apology overnight for his "silly remark" and then held a press conference the following afternoon to apologise again, but was asked by Woods' agent to wait until Merion to speak to Woods in person.
That took place on the practice range on Monday with Woods accepting García's proffered handshake, with both players set to face the media in pre-tournament press conferences today.
But Montgomerie feels García could well be heckled anyway by spectators, as he was during his playing career in America.
Asked if García would be subjected to booing, Montgomerie said: "Yes, he could do, which is very sad for our game. Remember we're only a couple of hours from New York and it's a lively crowd and I think he could well be booed.
"You would feel for him, but the trouble is [if] you feel for him that's you condoning it. So you can't feel sorry for him because you're condoning it. So it's very difficult - it's a very difficult situation to be in."
Montgomerie felt responding to taunts in the 1997 US Open cost him the title, but eventually learnt to handle it because it was such a common occurrence.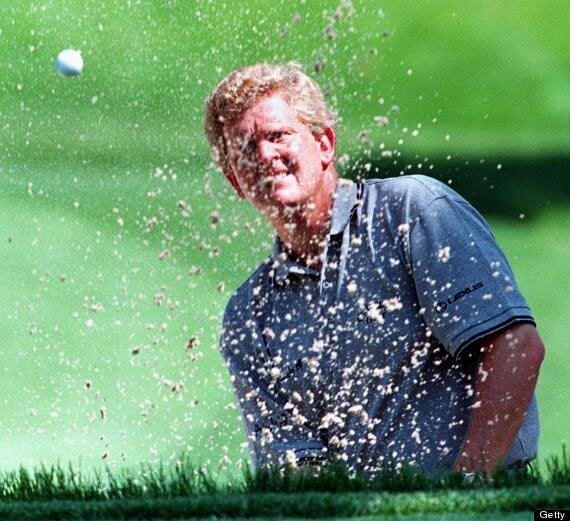 Montgomerie finished second behind Ernie Els at Congressional in 1997
"Yes I did manage it better, but it was expected, so if something is expected you can almost plan for it and Sergio could plan for this because it's expected for him," the Scot added.
"I think if something is expected you can go with it, if it's unexpected you go, 'What the hell is that all about? I'm not ready for that.' So at least he's prepared for it and he knows.
"He spoke to me at Wentworth (during the BMW PGA Championship) when I'd said 'Well done in making the cut', and he said, 'It's going to be difficult in America.' I said, 'I know it is, but get on with it and play your golf.' That's all he can do."