 In the lead up to the first most photographed event of her life, Kate Middleton's slim physique became noticeably more petite. But as her second high-profile event draws closer -- the birth of the royal baby -- the Duchess of Cambridge has an entirely different situation on her hands: weight loss.
HuffPost UK Lifestyle hope that Kate Middleton feels under no pressure to slip back to her wedding dress-size just weeks after giving birth. But if she's looking for a little motivation on the figure front, there are plenty of A-listers who've jumped at such a challenge.
We've rounded up some tips from A-list women, who've managed to be snapped just weeks after giving birth, looking back to their old svelte selves...
Get A Personal Trainer, says Isla Fisher
The tiny comic actress Isla Fisher (married to Sasha Baren Cohen) had just three months to shed the baby weight ahead of her role in Confessions of A Shopholic, she told US Weekly.
"I had to shoot about three months after I gave birth to Olive, so the producer, Jerry Bruckheimer, hired a trainer to work with me three times a week. That was both inspirational and terrifying because I didn't want to let the trainer down."
Exercise During Pregnancy, says Shakira
"I do Zumba. Zumba has been actually really great for me," Shakira said. "Even during pregnancy, I kept doing it until almost the end."
PICTURES: Scroll down to 'before and after' shots of pregnant stars
Keep On The Go At Home, says Gwyneth Paltrow
Post-partum workouts are something every mum can do, according to Gwyneth Paltrow, who trained with Tracy Anderson to lose her pregnancy weight.
"Every woman can make time – every woman – and you can do it with your baby in the room," said Paltrow, according to NY Daily News.
"There have been countless times where I've worked out with my kids crawling all over the place."
Vary Your Workout, says Halle Berry
Trainer Ramona Braganza has worked with many A-list stars, including Hally Berry.
"We started out conservatively, with just some cardio and stretching, five days a week," says Braganza.
"After a week, we changed it up. No one wants to do the same routine all the time. We'd go for hikes, a jog on the beach, or do kickboxing or yoga."
Stick To A Regime, says Victoria Beckham
The famously self-disciplined fashion designer and mother-of-four Victoria Beckham never appears to take long to return to her pre-baby figure.
After the birth of her baby daughter Harper, Victoria revealed she headed straight to the gym and followed a workout regime prepared by celebrity trainer Tracy Anderson.
Cut Back The Calories, says Beyonce
Last year the curvacious star Beyonce gave birth to her first daughter Blue Ivy and within months was back performing, wearing revealing outfits that showed off a stunning post-pregnancy figure.
"I had to lose 60 pounds. They had me on that treadmill. I ate lettuce!"
Click through to see how the stars snap back into shape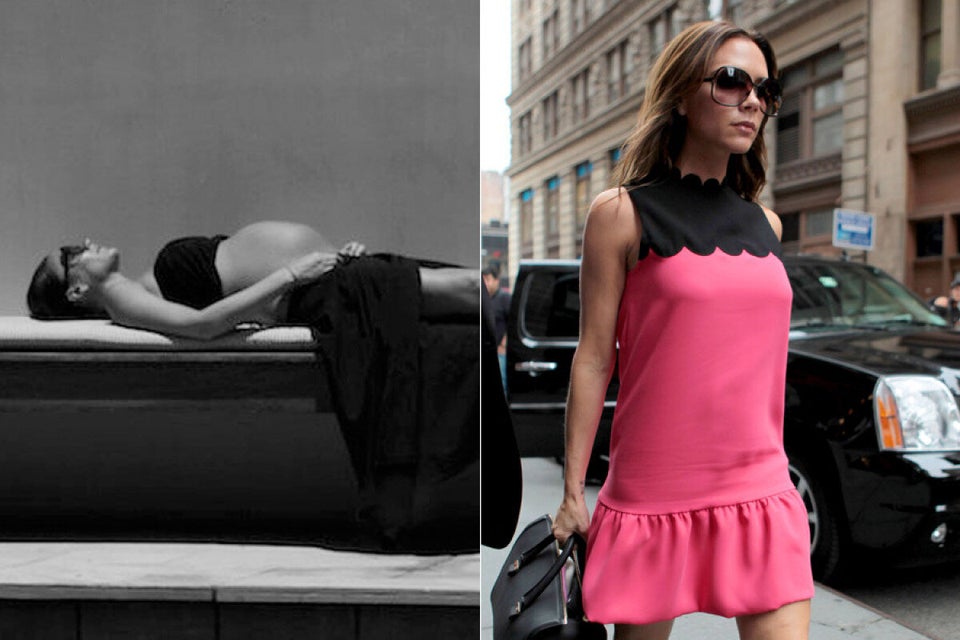 Pre And Post Pregnancy Celebrities