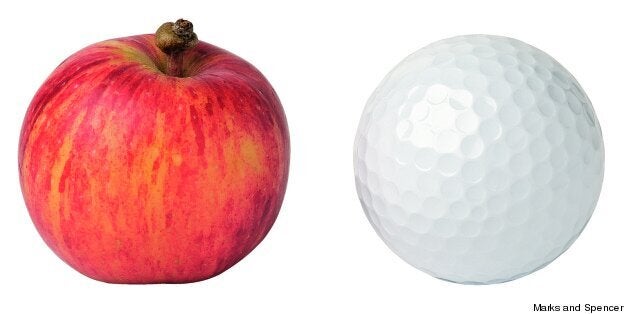 It's not exactly the kind of snack that will get you through a long, dark winter, but for snacking in summer, the Tiddly Pomme – the world's smallest apple – is spot on. Marks and Spencer has started stocking the fruit as of this week, and you can buy six of the golf ball-sized apples for £1.49.
The sweet, crunchy fruit are grown in New Zealand, and is a mini-version of the Royal Gala variety. M&S is planning to have British grown versions in the future. Two of them count as one of your five fruit and vegetables a day.
I found them to have a sweet, lovely texture - like a cross between a pear and an apple. And I like an apple with crunch, even one that lasts a few nibbles.
You may not be able to say: "Excuse me Sir, do you have any Tiddly Pommes?" with a straight face, but the name was chosen through a Facebook competition which was seen by a million customers. Other contenders were Little Munch and Red Dwarf.
So, how does the fruit measure up?
Fastest time to eat the fruit: 25 seconds -resident champion Poorna Bell, Lifestyle Editor
"It's good for a night out because you don't have to get chips afterwards. Instead you just get your Tiddly Pomme out of your bag."
"Taste-wise, they are nothing special and they are quite a lot of effort to eat but they are nice. You know what these would be good for? Apple bobbing."
"They are small but perfectly formed. Great for little lunch boxes. They are quite crunchy and tasty too."