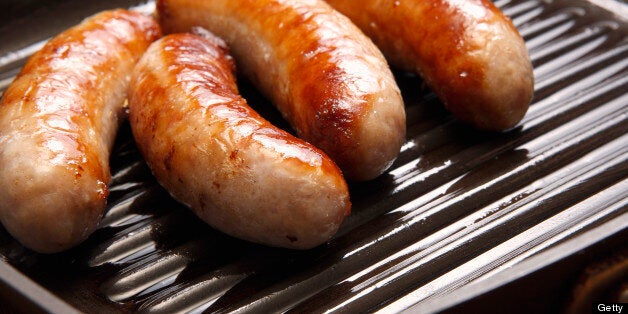 Buying supermarket own-brand is often seen as the last resort to make the pounds stretch before payday, but according to top consumer group Which?, when it comes to sausages, the cheaper brands are best.
Some, not all, supermarket own-brand sausages have trumped their pricier competitors in tests of meat content and value for money, a watchdog has found.
A study by consumer group Which? found that some of the cheapest own brands offer the same amount of meat as significantly more expensive names.
Consumers are better off buying an 80p packet of Sainsbury's Basics pork sausages than a £2.40 packet of Richmond thick sausages because both offer the same 42% meat content, it said.
Sainsbury's premium pork sausages are £2.99, costing 59p more than the Richmond variety but containing twice as much meat at 97%.
Within supermarket ranges, cheaper products are not always better value in terms of meat content, the study also shows.
Asda Butcher's Selection British pork sausages cost 23p more per kg than Asda pork sausages but contain significantly more meat, at 72% and 56% respectively.
With beefburgers, the Birds Eye Original version cost £8.30 per kg and contains 77% meat but Tesco's quarter-pound beefburgers cost £6.12 per kg and contain 90% meat, Which? said.
According to food labelling guidelines, a pork sausage must contain at least 42% pork meat to be labelled as such and that a product described simply as sausage only needs to contain 32% pork, 26% chicken or 30% beef/lamb.
Sausages and bacon are the most popular meat products sold by retailers, with 74% of UK adults buying them, Which? said.
Four-fifths of people (79%) check ingredients and meat content on labelling, the consumer group said, but added that it is concerned that government proposals will weaken guidelines and decriminalise violations of food labelling rules.
"We want mislabelling to remain a criminal offence, even more so after the horsemeat scandal, so those responsible for misleading consumers can be held to account," Which? said.
Executive director Richard Lloyd said: "Branded goods don't always provide the best value for money, as we've found shoppers can get more banger for their buck by choosing supermarket own-brand sausages.
"It's important that people know what they're getting so they can make an informed choice.
"In the wake of the horsemeat scandal, we want the Government to think again over their plans to decriminalise food labelling offences to help restore trust in the food industry."
Which? said it surveyed 2,002 UK adults online on May 9-13.
For more pork inspiration, take a look at some amazing barbecue rib ideas: