The Duchess of Cambridge, according to Grazia magazine, is apparently considering a hypnobirth. The news – whether or not it is true – shines a spotlight on a slightly misunderstood yet brilliant, natural supportive addition to the birth process.
Before people get up in arms about the prospect of Kate Middleton sitting on a guerney with a stopwatch being dangled in front of her face, think again. Hypnobirthing does not involve "going under" or being unaware of what's going on, rather it helps with anxieties and impending fear of the pain that accompanies labour.
Grazia quoted a source as saying: "Kate has researched various birthing methods. She wants it to be natural, so hypno-birthing is one option that appealed and she had been reading up on it and listening to CDs to get into the right frame of mind." Kate Middleton's pregnancy has been well documented
Dispelling preconceptions people may have about it, she said: "We have the dreaded word hypno attached to it, which conjures up the idea of hippies sitting cross-legged on bean bags and chanting. What it's actually based on is the irrefutable logic how mind and body work together."
Hypnobirthing, according to Graves, is based on the work of Grantly Dick-Read, an English obstetrician who came up with the fear, tension and pain premise. "If you're in pain, you tense up. A good example is that at Wimbledon, players who have never done a double fault end up at a tie-break and then proceed to do a double fault because of all the pressure. So if your body isn't working properly, anything you try to do will be more painful."
It has been reported that Kate's birthing plan may use a birthing pool at St Mary Hospital in Paddington, and if true, indicates the Duchess is not adverse to exploring more natural methods.
So what exactly does hypnobirthing involve? Katharine says that it involves breathing, relaxation and visualisation. The most important thing, however is to teach the mother how to release any fear.
MORE ON HUFFPOST UK LIFESTYLE
"However much a woman is looking forward to having a baby, she is nonetheless beset by horror stories. Our society knows birth is painful. Every birthing film shows someone screaming and writhing around in agony. If you're in a state of fear you produce different hormones, and what you want to be doing is producing oxytocin and endorphins, which are nature's pain relief and keep you calm."
"In some countries, women who are pregnant and working in the fields pop off, have the baby and come back. We go: 'Wow, isn't that amazing.' But if you think about it, a woman's body is made in such a way that it can do that and the real question is how have we got in such a state that we don't think we can do it?"
Hypnobirthing, it must be said, isn't necessarily meant to replace the need for epidurals or pain relief that the hospital might offer. But the brilliance of it is that it can be used in addition to all the other care being provided by the hospital. You can do it in a group or with your partner and the course takes just 12 hours, which can be undertaken in two days or over a few days.
For women – especially mothers who may need caesareans (and the Duchess may be one of these), Katharine says that hypnobirthing can help women to feel like the birth is in their control, which some women don't.
She says: "The caesarean rate is approaching 30% and I don't believe 1 in 4 women are getting to a state where they can't give birth. Women who do hypnobirthing and who've had a caesarean say: 'Everyone was flapping around me but I was calm and felt in control. It was my birth it wasn't just something that was one to me. Some women get post-natal depression largely because they feel like they've lost control.'"
Gail Johnson, Professional Advisor (Education) at the Royal College of Midwives agrees and says: "Anecdotally, with hypnobirthing, women feel more in control and that is something that will help them with birth process. But, the evidence is hard because you don't know what the labour would've been like without the influence of hypnosis. However, if women are following it and having a positive experience then that's a bonus."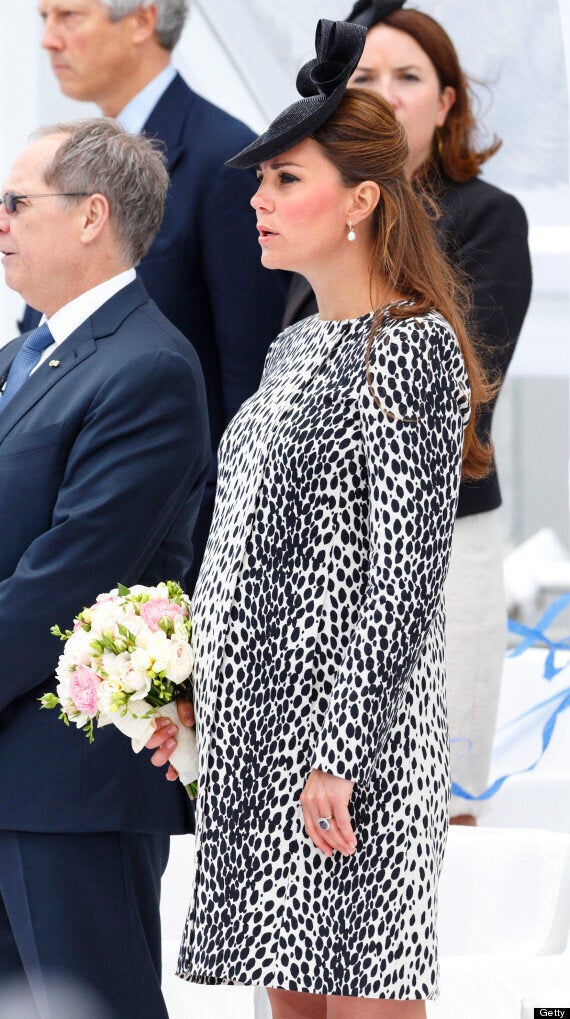 Stage magic has given hypnosis a bad name, where some people believe it's about losing control. Katharine says: "People have preconceptions about hypnosis – they think it's when you're 'put under' and made to eat an onion. In the first place you can never be stuck in it. It's little more than helping you to go into a deep state of relaxation. We then make some suggestions and your mind chooses the ones that are right for you. For instance, if a fire alarm went off you wouldn't sit still."
Related