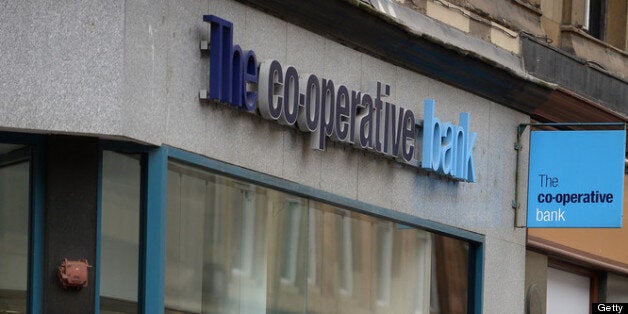 A £1 billion rescue plan for the Co-operative's troubled banking arm is set to be unveiled this week in a move likely to hit up to 5,000 small investors.
The mutual has been racing to plug a shortfall of up to £1.5 billion in its finances identified by the Prudential Regulation Authority (PRA), the new City watchdog.
It is likely to do so through the disposal of its insurance business and a portfolio of loans, although the Sunday Times said a large part of the cash is expected to come from bondholders.
This would impact more than 5,000 investors who lent money to the Co-op through securities called permanent interest bearing shares that pay dividends of up to 13% a year. As much as 30% of their cash could be wiped out or transferred into a new vehicle, it was reported.
No taxpayers' money will be involved and the Co-op will be spared from having to sell other assets in the wider group, such as its pharmacy chain.
The black hole in the Co-op's capital reserves largely stems from commercial property loans acquired through a merger with the Britannia building society in 2009 that created a financial "super-mutual".
Other institutions have been in discussions with the PRA over their capital strength after the Bank of England's new Financial Policy Committee claimed banks needed another £25 billion of capital to prop up their balance sheets.
It is thought that the likes of HSBC, Standard Chartered and Santander UK will be fine, while Lloyds Banking Group and Royal Bank of Scotland have already agreed with the PRA that their requirements will be met without having to fundraise through the issue of new shares or securities.
As a member-owned institution, the Co-op is hamstrung in its ability to raise fresh capital, and cannot issue shares to boost funds.
It was thrown into crisis after credit ratings agency Moody's downgraded the bank to junk status, forcing it to issue a statement that it did not need to be rescued by the taxpayer.
Former HSBC banker Niall Booker started as chief executive of the Co-operative Bank and deputy chief executive of the wider group last week.
It recently stopping lending to new corporate customers, sold its life insurance and asset management arm to Royal London and is also planning to sell its general insurance business. And the mutual recently pulled out of a deal to buy more than 600 Lloyds banking branches.
The wider Co-operative Group was founded in 1863, has more than six million members and employs over 100,000 people.