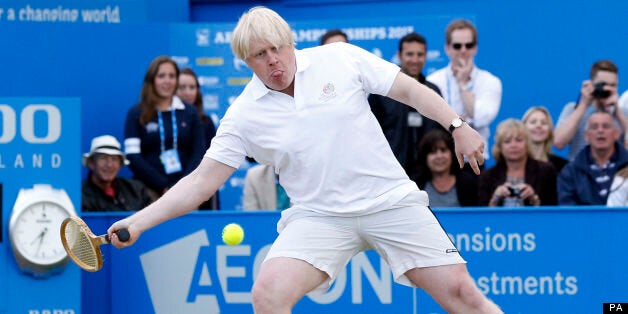 Showing a fabulous disregard for fashion, modernity and not to mention the safety of his tongue, this ladies and gentlemen, is the Mayor of London playing tennis on Sunday.
Boris Johnson was playing a celebrity match against tournament winner Andy Murray at The Queen's Club in London to raise money for Royal Marsden Hospital.
Sir Richard Branson, Michael McIntyre and Jonathan Ross also took part.
Earlier in the day Murray had beaten defending champion Marin Cilic in three sets in what is seen as the warm-up for the much-anticipated Wimbledon tournament later in the month.
British politicians appear to have a special fascination with tennis. Last year it emerged David Cameron kept Barack Obama waiting on the phone while he finished a match against Charlie Brooks.
Popular in the Community