Women with a heightened risk of breast cancer could benefit from being screened for the disease at a younger age, research suggests.
Breast cancer sufferers aged between 35 and 39 who had mammograms had their cancer detected at an earlier, more easily treatable stage, potentially improving their chance of survival, the study found.
At present screening is only routinely offered to women in their late 40s until they are 73, but the research suggests younger women with a family history of the disease could benefit from having mammograms instead of waiting for normal screening invitations.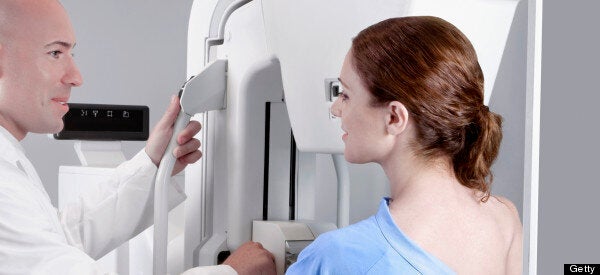 Researchers examined data concerning almost 1,500 women who were deemed to be at higher risk of breast cancer than the general population.
The study, funded by the charity Breast Cancer Campaign, identified 47 cases in women who had been screened and compared with women of similar ages with breast cancer who had not been screened.
The cancers detected in screened women were "significantly smaller" than the 1,401 detected by symptoms and no screening, the study found.
Researchers are planning to examine the cost effectiveness for the NHS to provide annual mammography for women deemed to have a risk of getting breast cancer.
Lead author Professor Gareth Evans, a cancer genetics expert at the University of Manchester, said: "These results are an exciting first step into stratifying screening to a more targeted group of women at increased risk of breast cancer and show definite benefit, by finding cancers at an early stage where treatment can have most impact.
"Mammography has been proven to save lives of women eligible for screening as part of the NHS Breast Screening Programme and is readily available on the NHS making it a realistic option for use in younger women at higher risk."
Baroness Delyth Morgan, chief executive of Breast Cancer Campaign, said: "This study shines a welcome spotlight on the needs of women who are at an increased risk of breast cancer and living with the uncertainty of their risk but currently without any extra surveillance support.
"Professor Evans's findings are extremely timely in indicating just how vital breast cancer screening is and how it can be used in a more targeted manner for a large group of women with limited options at their disposal to help prevent and detect the disease. We need every tool we can get to fight this disease."
There has been debate about the value of such screening programmes over recent years.
While mortality rates for breast cancer have declined significantly since the 1980s, some critics have said screening programmes do more harm than good and lead to many women undergoing unnecessary surgery.
The Department of Health commissioned a review into the risks and benefits in 2011, and the independent panel concluded there was a 20% relative reduction in mortality from breast cancer in women invited to screening.
But research published last week suggested that breast cancer screening programmes have yet to show a reduction in the number of women who die from the disease
The study, published in the Journal of the Royal Society of Medicine, suggests that there is no evidence that screening women for breast cancer has an effect on mortality.