Tweeting to his 25,000+ followers from an unverified account, Griffin wrote: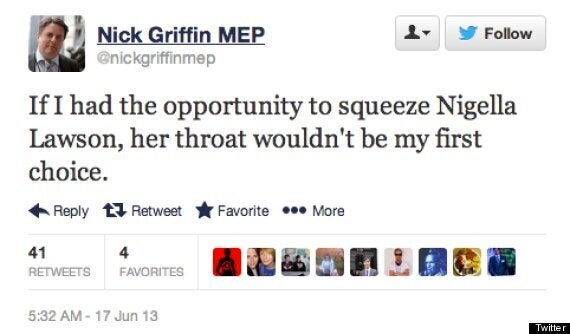 The tweet had been "favourited" by 4 users and retweeted 41 times at time of press, with responses branding Griffin "misogynistic", "a disgusting waste of DNA" and a "waste of oxygen".
A spokesman for the BNP told The Huffington Post UK: "I think he likes her cooking. It's a joke."
When it was pointed out the comment had caused offence, he added: "If people can't see there is a sense of humour there, I pity them."



The comment comes after a Sunday newspaper printed photographs that appeared to show Charles Saatchi with his hand around his wife's neck as the couple argued.
Lawson, the daughter of former chancellor of the exchequer Nigel Lawson, was reportedly seen weeping following the episode.
Addressing Griffin's Tweet, Heather Harvey of Eaves for Women, told the Huffington Post UK: "I am loath to give this man any air time or dignify his inanities with any response whatsoever, but basically he is adding insult to injury when he attempts to make a crass sexist joke to the effect that he would like to sexually assault her and thinks it is appropriate to try to dismiss it as humour."
Scotland Yard have said they are aware of the pictures published in the Sunday People. A BNP spokesman told The Huffington Post UK: 'It's a joke'
A spokesman said: "Inquiries are in hand to establish the facts of the incident." He added Lawson has not made any complaint to the police and no arrests have been made.
He said: "There was no grip. It was a playful tiff. The pictures are horrific but give a far more drastic and violent impression of what took place. Nigella's tears were because we both hate arguing, not because she had been hurt."