WARNING: Graphic Pictures
Hundreds of thousands of demonstrators have paraded through cities in Brazil to protest against corruption, police brutality and the declining standard of the country's public services.
The gatherings, which spread from Sao Paulo to Rio de Janeiro, led to sporadic violence as protesters clashed with police, further stoking tensions between a citizenry disgruntled by a flagging economy and the authorities. A protester is pepper-sprayed during a demonstration in Rio
The demonstrations started last week after a hike in bus fare prices led to protests, followed by a reported heavy-handed crackdown by the police, including the use of tear gas.
Blogging for the HuffPost UK, Rita Lobo wrote: "When residents of the two cities took to the streets last week bearing placards and chanting slogans demanding answers, regional police responded by firing rubber bullets and tear gas. Many were arrested, included a reporter found to be carrying vinegar, a supposed antidote to tear gas."
"Another reporter was shot in the eye by a rubber bullet; he is thought to have lost his sight. Protests are on-going, with more manifestations planned for Monday evening; it is thought that 40 thousand people will take to the streets in Rio and many more in São Paulo."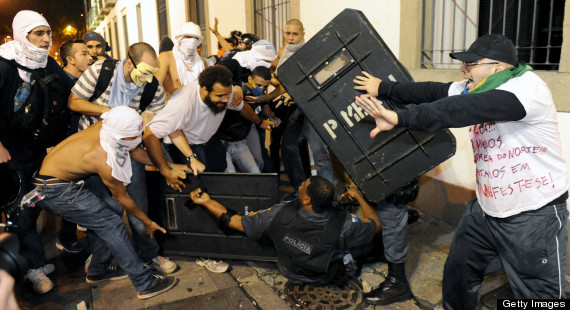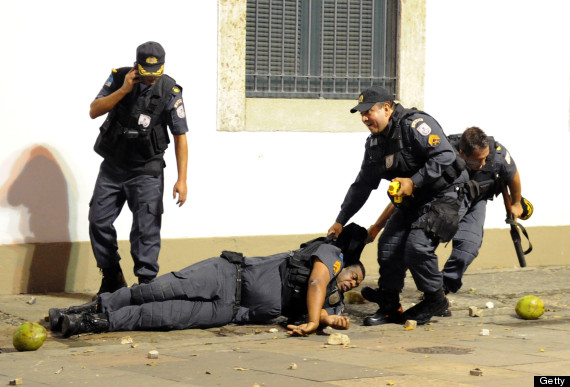 A policeman lies injured on the ground after clashing with demonstrators in Rio de Janeiro
According to Reuters, more than 200,000 took to the street, while 100,000 are believed to have marched in Rio.
In Brasilia, demonstrators stormed government buildings, cars were overturned and windows were smashed. In Rio protesters attacked police with rocks.
Exacerbating the mood, the country is currently staging the Confederations Cup in preparation for next year's World Cup, events which are both costing the public purse billions while public services suffer.
Lobo added: "Brazil might be the world's sixth biggest economy but it is also a chronically corrupt and bureaucratic giant state. Decisions made at the top, hardly impact favourably those at the bottom. The country is plagued by endemic social inequality."
"We are here because we hate the government. They do nothing for us," Oscar José Santos, a 19-year-old from Rocinha favela told the Guardian.
"For many years the government has been feeding corruption," Graciela Caçador, a 28-year-old from Sao Paulo told Reuters, adding: "They spent billions of dollars building stadiums and nothing on education and health."
Social networks have been integral in organising the demonstrations, with some protesters holding banners proclaiming the importance of Facebook in the movement.
The demonstrations have widely been dubbed the "vinegar revolution" by protesters after many were arrested for carrying the condiment to order to lessen the effects of tear gas.