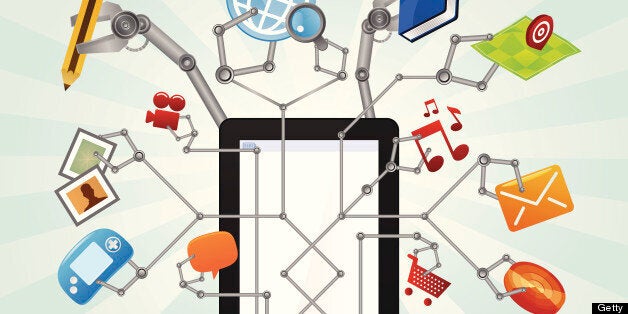 While it seems like anyone can put together an app in an afternoon and make millions selling digital tat to nerds, it's not actually that simple.
Making apps takes time. It's difficult work, and involves a lot of knowledge and thought - and practice. It also requires great ideas, collaboration with artists, marketing and salespeople, as well as a healthy dose of luck and money.
If your aims are less modest - if you want to make an app that's useful to you or a small team, produce a niche game mainly for your own enjoyment, or just learn how to code something simple for the sheer pleasure of it, you can still do that - and get a huge amount out of it. Who knows where it will lead?
We've pulled together some links, videos and guides to places where you can get started - and a few websites that will do the heavy lifting for you.
As with any digital endeavour, there's a lot more than we can show you here. But hopefully we'll be able to spark an idea, or demonstrate that making an app is still possible for the absolute beginner.
Coding Apps: Beginners' Guides
DIY Websites - make an app with no code
Good Advice From Those In The Know:
"If all you have is an app idea, you're probably not ready to build a business. Most apps fail from a pure app sales standpoint, so it's critical that companies have a business plan for how their app can flourish amidst competition."
"In the last 6-12 months Apple has seriously tightened their belts on the app review process. They are keeping a much closer watch on people submitting apps that are just news feeds or uber-simple apps that are essentially templated out. … I'm telling you this because there is a very real possibility that your app is going to get rejected from the store – these apps are by no means a sure thing."
"Some of the hottest app designs are lauded for their usability when the consumer is not actually online. Apps like WorkFlowy and Evernote work seamlessly even when the consumer is not connected to WiFi or another signal. This is a design practice that entrepreneurs and their development teams should think about as they plan their apps. Think ahead about how the app works in the offline mode."
The key to designing a fantastic app that delivers a rich user experience is to create a design for your app that emulates the real life, subject or category that your app represents. For instance, if you're building a productivity app, study how people are behaving using physical products, and design an app that enhances the usability and experience.
Related