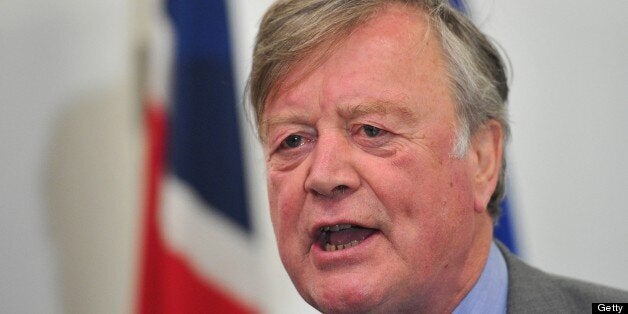 The ten things you need to know on Tuesday 18 June 2013...
1) WANT TO KNOW HOW TO 'WRECK THE ECONOMY'?
"Britain will be excluded from international deals if the country leaves the European Union, which would lead to widespread job losses and higher prices in the shops, a senior Cabinet minister warns today.
"Kenneth Clarke, the former chancellor, says Britons are "intrepid, outward–facing adventurers" not "isolationist John Bulls" as he lauds the beginning of talks on an American–European trade deal, announced yesterday at the G8 summit.
"In an article for The Daily Telegraph, Mr Clarke, whom the Prime Minister made a key negotiator in the trade deal, warns that Britain would face "curtains for our ability to play any leadership role" if some of his Tory colleagues continue to push for what he describes as a 'Brexit'."
"The Prime Minister said [the trade deal] would be worth £11billion to Britain, the equivalent of £384 for every household, bringing two million new jobs and 'lower prices in the shops'.
"However, in today's article, Mr Clarke, a well–known supporter of the EU, unlike many of his Tory Cabinet colleagues, says that this country will not be able to participate in this deal and others without its single market membership. 'Irony of ironies, it is of course the EU that is making deals with the United States and Canada possible,' Mr Clarke says. 'It should come as no surprise that Obama's officials have commented that they would have 'very little appetite' for a deal with the British alone.'"
2) A 'CLARIFYING MOMENT' ON SYRIA
"David Cameron will today challenge President Putin to force the Assad regime to peace talks or be responsible for an upsurge in violent extremism that destabilises the Middle East for years.
"The Prime Minister led an ambush of Mr Putin by world leaders last night in an attempt to shame Russia into signing up to a post-Assad Syria in what amounts to a last chance for peace.
"Mr Cameron used his role as G8 host to impose a 'clarifying moment' on the Syrian crisis amid fears that without swift agreement on a new peace process the slaughter would get worse. William Hague said yesterday that the fighting could last for years."
But it's Putin, not Cameron, who seems to have the support of the British public. Last night, a ComRes poll for ITV found that just 17 per cent of Britons support arming the rebels with 53 per cent opposed.
It isn't just Syria that's on the agenda in Northern Ireland - from the Guardian:
"David Cameron and George Osborne are planning a last-ditch push to persuade leaders of the west's leading industrial nations to soften their opposition to plans for a global crackdown on tax evasion.
"With aid campaigners stepping up the pressure for a comprehensive deal that would include developing countries, the prime minister and the chancellor were trying to prevent proposals being watered down by resistance from other western leaders.
"Sources said there were two key issues that would be decided in the talks, which will take place over the next 24 hours: whether registers of the beneficiaries of offshore accounts would be made public and whether a G8 deal to exchange tax information would be open to poor nations."
Could the crisis in Syria inadvertently help boost the chances of a deal on tax avoidance?
"Cameron is unhappy that the summit looks certain to be dominated by the row between Russia and the rest of the G8 over Syria, but some campaigners think this may force the G8 to look for an issue, such as tax, on which they can agree, thus saving the meeting from being seen as a failure."
Meanwhile, the Telegraph's sketchwriter, Michael Deacon, notes:
"A crucial early victory for David Cameron at the G8 summit, as he comfortably outdid his counterparts in the all–important Unconvincing Attempt to Look Relaxed.
"At a media conference, the three men alongside him – Barack Obama, the European Council's Herman Van Rompuy and the European Commission's José Manuel Barroso – were all wearing open–necked shirts. But Mr Cameron had gone one better. Not only was he without a tie, he didn't even have a jacket on – and, the clincher, his sleeves were rolled up.
"Sources close to the PM reveal that he was determined to establish himself as the coolest dude around the table, and had President Obama tried to match him by shedding his jacket, he was prepared to do the summit in flip–flops and shorts."
4) THE 'ROBIN HOOD' DIVIDING LINE
Talking of taxes, the Guardian also reports:
"The Liberal Democrats will on Tuesday face pressure to break ranks with their coalition partners by voting in favour of the principle of a financial transaction tax.
"Labour, which is to press for a Commons vote on the issue, called on the Lib Dems to help create a consensus on the so-called Robin Hood tax which would in turn encourage the US to support the measure.
Chris Leslie, the shadow Treasury minister, will seek to embarrass the Lib Dems when he tables an amendment to a European Union document which will be presented to MPs after the decision of 11 EU member states to introduce the tax... The Labour amendment has been worded carefully to make it more difficult for the Lib Dems to refuse to support it. The amendment calls on the government to support the principle of an FTT and to work with other global financial centres, including the US, to reach consensus on a 'modest rate without creating negative economic consequences'."
5) 'FREE SCHOOLS UNDER A DIFFERENT NAME'
It's not often I agree with Michael Gove. From the Telegraph:
"Labour would continue the Conservative policy of allowing parents to open schools, but has said councils must be given new powers to control their activities.
"Stephen Twigg, the shadow education secretary, said in a speech yesterday that his proposed reforms would mark the end of Michael Gove's free schools programme.
"However, Lord Adonis, a Labour education adviser, said the policy would in fact allow the establishment of 'more parentled academies', similar to the West London Free School set up by Toby Young, the writer and Telegraph blogger.
"Amid confusion over Mr Twigg's position, Mr Gove described Labour's policy as 'tortured' and said the party was signing up for 'free schools under a different name'."
BECAUSE YOU'VE READ THIS FAR...
Watch this video of a dog pushing a man in a wheelchair through a flooded Russian street.
6) AFGHANS TAKE THE LEAD - BUT WAS IT ALL WORTH IT?
For the first time since 2001, the Afghan government is in charge of security for the entire country - from the BBC:
"Afghan forces have formally taken over security for the whole of the country from Nato-led troops, completing a process begun in 2011.
"President Hamid Karzai announced the move at a ceremony during which Nato forces handed over control for the last 95 districts.
"The event marks a significant milestone since US-led forces ousted the Taliban following the 9/11 attacks of 2001.
"Ahead of the event, a suicide bomber killed three people in Kabul."
"However, as it has taken over more responsibility for security, the Afghan army has suffered a sharp rise in casualties.
"By comparison, international coalition casualties have been steadily falling since 2010."
Over the past decade, hundreds of British troops have lost their lives, thousands have been maimed and billions of pounds have been squandered - yet Afghanistan is far from a functioning democracy, the Taliban remains undefeated and al Qaeda continues to pose a threat to the west.
"Maria Miller has been accused of using a Whitehall summit designed to tackle child abuse images to shore up her place in the Cabinet before a ministerial shake-up by David Cameron.
"... Mrs Miller's aides plan to use the conference today as evidence of her effectiveness in the Job, pointing out that she is the "only mother at the Cabinet table". An aide said: "Maria has proved in recent months that she is a tough Secretary of State and it has not always made her popular, but she delivers results. This issue has personal resonance."
"Her fightback comes before an anticipated Cabinet-level reshuffle in the autumn. Some changes are also expected over the summer."
8) 'WE NEED TO FIND A WAY OF HEALING THIS INJURY'
"Iran's newly-elected president Hassan Rouhani has signalled he is ready to talk to both Britain and the US to "remove the problems between us," and repeated claims that Britain allegedly blocked a 2005 nuclear agreement with Iran, under pressure from the US.
"Rouhani, a moderate cleric, was elected this weekend with a clear 51% majority, beating conservative Tehran Mayor Mohammad Bagher Qalibaf and hardline nuclear negotiator Saeed Jalili.
"David Cameron has said Britain would welcome Iran back into the international community, providing the pariah nation abandons ambitions to develop nuclear weaponry."
He also signalled his desire to mend fences with the United States, too:
"The new president smiled knowingly when a US broadcaster asked him if he would be prepared to engage in "direct dialogue" with the US.
"'It's a very hard question you ask,' he said. 'The relation between Iran is very complicated, nothing will be easy. There is a very old wound there but we need to find a way of healing this injury. we don't want to see further tension, so we have to act with intelligence.'"
"The Conservative Party would be 'idiots' not to elect Boris Johnson as leader, Tory MP Nadine Dorries has said.
"In an interview with Total Politics magazine, the fierce critic of David Cameron said it was only a matter of time before the mayor of London would replace the prime minister.
"'He will be a leader of the Tory Party, there's no doubt. He's won two major elections, and nobody else in the party matches that at the moment. We would be idiots not to have Boris. He'd take the party back to the highlands again pretty easily,' she said."
Dorries also told Total Politics that she wanted to "do more reality stuff. My constituents absolutely love it, because they've got someone of their own, who they see in Tesco, on there... I'd love to do Strictly Come Dancing - who knows?"
10) 'I STILL DON'T KNOW WHAT I'M GOING TO DO WITH MY LIFE'
The Daily Mail's Ephraim Hardcastle column lays into Miliband senior:
"FormerLabour foreign secretary David Miliband told the Fabian Society that he'd advised young people in a recent speech: 'Look, I still don't know what I'm going to do with my life either.' As if he's ever had anything to worry about. David and brother Ed were shoehorned into the Labour hierarchy thanks to their family's top party connections. Hence David's parliamentary seat, Cabinet job and - after failing to become leader - new £300,000-plus job running a charity in New York. And brother Ed's position as leader of HM Opposition. So was his advice a little disingenuous?"
From yesterday's Sunday Times/YouGov poll:
This would give Labour a majority of 96.
@DanHannanMEP Come on, @Nigel_Farage, admit it: Ken Clarke is secretly working for UKIP, isn't he?
@politicshome Osborne on #g8 dress code:"I did what I was told to do which was turn up in smart casual wear – I followed that to the letter" @BBCBreakfast
@oflynnexpress People who keep their backpacks on in crowded tube carriages - what punishment can we arrange for them?
Janan Ganesh, writing in the FT, says: "We ought to give thanks for our political class."
Polly Toynbee, writing in the Guardian, says: "Forget the excuses, here's how Britain can tax the rich."
Donald Macintyre, writing in the Independent, says: "Ed Miliband needs to hold out against EU referendum."
Got something you want to share? Please send any stories/tips/quotes/pix/plugs/gossip to Mehdi Hasan (mehdi.hasan@huffingtonpost.com) or Ned Simons (ned.simons@huffingtonpost.com). You can also follow us on Twitter: @mehdirhasan, @nedsimons and @huffpostukpol
Popular in the Community