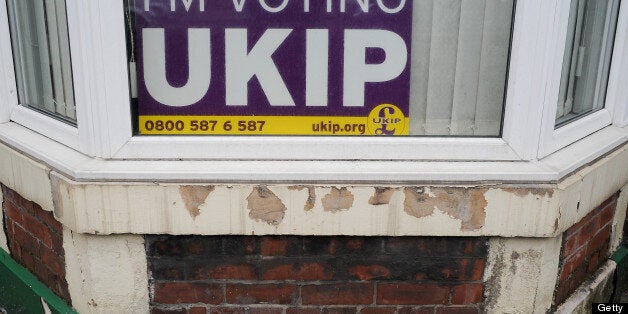 Nigel Farage has been in Scotland for less than a day but his party Ukip has already come under fire after sending a campaign leaflet to the grieving family of the politician whose death triggered a local by-election.
Adam's family criticised Ukip for leafleting their house, saying it was both insensitive and showed how little the party knew about the area.
In a statement, they said: "This shows how little UKIP know or care about the people of Aberdeen Donside.
"In an already difficult week for the family, during which we will be reminded of our father as his replacement is elected, it is hurtful that Ukip could be so insensitive - although it does seem to mirror the image they portray."
However Ukip said it was an innocent mistake and the party very much regretted the error.
Ukip candidate Otto Inglis told the Scotsman he would personally apologise to the family as soon as possible. Brian Adam's widow Dorothy at his funeral
Ahead of his trip, Farage wrote a comment piece for The Herald, saying he was "greatly looking forward" to visiting Scotland, one month after his attempt to visit Edinburgh saw him take refuge in a pub from a group of angry protesters.
The MEP said the appearance of his party seemed to "galvanise reaction", before taking a swipe at the "feral, baying mob of subsidised students" he said attacked him last time he travelled north of the border.
Farage was sealed inside the Canon Gait pub last May for his own safety after angry demonstrators from Radical Independence Edinburgh shouted "Go home!" and "You can stick your Union Jack up your a*se!"
In his article published on Tuesday, Farage lambasted the protesters and argues that Scottish independence would lead to a "bankrupt, starving Scotland."
He also claimed that David Cameron has accepted that the Conservative Party is now "finished" in Scotland.