An attack on a United Nations compound in Somalia by Islamist militants that left at least 16 people dead was "utterly indefensible", Foreign Secretary William Hague has said.
A pick-up truck rigged with explosives was detonated at the gates of the complex in Mogadishu and al Qaida-linked gunmen went on the rampage killing at least nine people, including three foreigners, according to local officials.
The seven al-Shabab militants also reportedly died in the attack after a gun battle said to have lasted around an hour.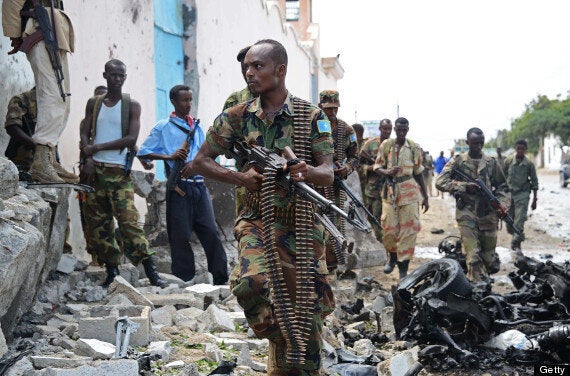 Somali National Government soldiers are pictured after Al-Qaeda linked Shebab insurgents shot and blasted their way into the United Nations compound in Mogadishu
Hague condemned the murder of UN staff but insisted the attack would do "nothing to shake" the resolve of the UN support for Somalia.
"I deplore this attack against the heart of the UN's operations in Somalia, in which a number of people have been killed," he said. "My thoughts are with the victims and their families, friends and colleagues.
"As the Prime Minister of Somalia has said, the UN are friends and partners of Somalia. They are leading efforts to provide political and practical support to Somalia and the Somali people, including life-saving humanitarian assistance. To murder staff working for the UN is utterly indefensible.
"I applaud the efforts of Somalia's national security forces with the support of AMISOM (African Union Mission in Somalia) in bringing the incident under control so quickly and with such professionalism. This is a major achievement. We all owe a huge debt to the bravery of AMISOM and Somalia's armed forces who are working side by side to defend Somalia against Al Shabaab's wanton violence.
"We remain resolved to continue supporting the progress we have witnessed in Somalia over the last two years.
"This kind of attack does nothing to shake that resolve."