Manchester City and United fans working on City's Etihad Campus have been banned from wearing replica shirts to "stop it getting silly".
The rivalry between the two neighbours has intensified in recent seasons, with each team winning the Barclays Premier League in the last two years and BAM, the company constructing City's academy, said shirts of any teams are forbidden due to football's "partisan" nature.
Spokesman Mark Flattery, said: "They [BAM] just took a decision to put a blanket ban to address all of that and to stop it getting silly. We have just taken a very sensible decision to manage the site that way."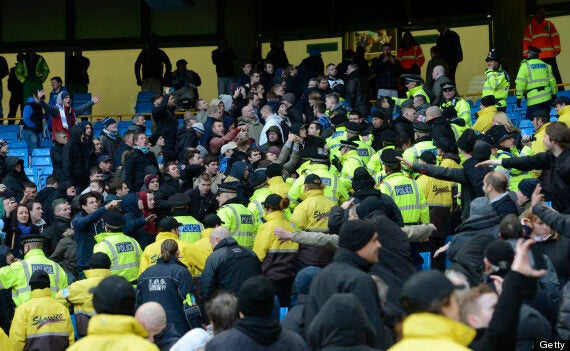 City and United fans trade barbs after the December derby
Ian Fleming, an executive, told the Manchester Evening News: "Strict building regulations are laid down for elements of the construction process one of which is for a local building control officer to inspect the quality of a structural concrete pour which includes checking the foundations."
City plan to move into the campus before the 2014-15 season and Reds will have to be subtle if they are to "curse" the site by burying United memorabilia.
In 2008 the New York Yankees removed a Boston Red Sox jersey from its burial spot after construction workers jackhammered through concrete. The shirt was located in a service corridor.