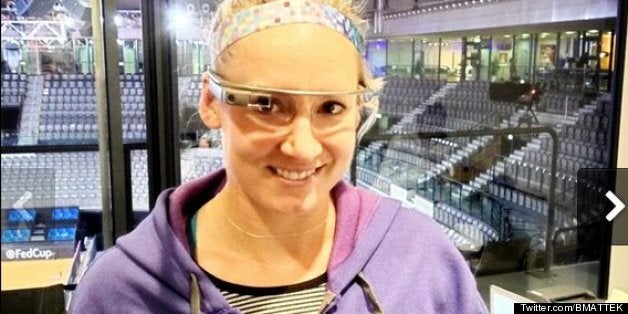 An American tennis star is bidding to become the first player to wear Google Glass at Wimbledon.
Bethanie Mattek-Sands - who is ranked number 58 in the world, and is known for her colourful outfits and blue-green hairstyle - is an early adopter of the wearable computer, as part of Google's 'Explorer' program.
She has already worn the device during practice sessions, and regularly tweets pictures and videos recorded with the camera-equipped gadget.
And now she - and Google - hope that she might get to use it at the All England Lawn Tennis & Croquet club too:
Unfortunately, it won't be making an appearance during any matches.
Strict regulations on both dress code and not using phones or other communications equipment during matches means that Mattek-Sands will have to put the Glass away during her first-round match against seventh seed Angelique Kerber.
But Google said that the Glass device is already allowing her to practice and connect with fans in "new ways".
In a statement Google said:
"Glass's potential in the sports realm is huge, and it can connect athletes, coaches, and fans in new ways. For Bethanie, it's allowed her to capture her strokes from her point of view during practice and share those with her coaches. It also helps her search recipes and perfect her cooking, something that's important to a professional athlete with dietary allergies and restrictions."
Take a look at Mattek-Sands' unique tennis style below.
Related