Katie Aselton is in front of the camera and behind it for bone-chiller 'Black Rock', set on the picturesque coast of Maine.
Three childhood friends set aside their personal issues and reunite for a girls' weekend on a remote island off the coast. One wrong move turns their weekend getaway into a deadly fight for survival.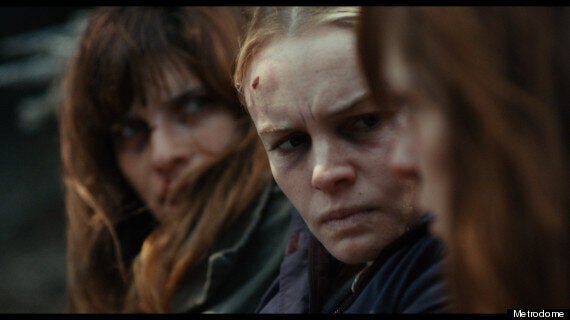 Katie Aselton, Kate Bosworth and Lake Bell star in 'Black Rock'
The writer-director-actress tells HuffPostUK about her latest project...
This is quite a jump in mood from light rom-com 'The Freebie', which you also created. What inspired you to write and create a chiller thriller like this one?
I approached the idea initially as an actor... The role of 'action heroine' was one I have always secretly lusted for and, until I created it for myself, had never been offered the opportunity to play. Then the idea of actually making this movie - directing it, telling it with a female voice - felt very original and also challenging in an exciting, creative way.
As a Maine local born and bred, were these places of your childhood? Were they always known as creepy, or have you given them a fresh twist in your film?
The Maine woods are incredibly eerie... But they are also incredibly beautiful. And the coastline with its craggy granite rocks meeting stunning ocean just perfectly encompassed the juxtaposition of the violent and the beautiful that is a strong underlying theme of the film.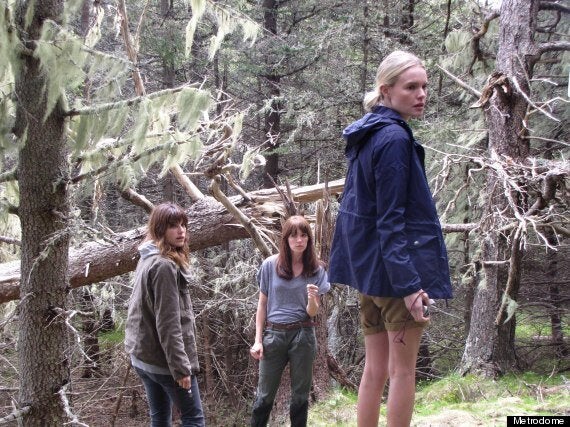 'They are the anti-Kardashians,' Katie Aselton says of her actresses
'Black Rock's been praised for not being about gender, but about story. Were you consciously trying to provide great roles for women, or lucky fluke?
Oh, absolutely! It was a very conscious decision. I was excited to create characters who were strong without compromising their femininity, who used their big girl voices, who throw their shoulders back and don't apologize for being women. They are the anti-Kardashians. I feel, as a female filmmaker, it is my duty to push back against that societal trend of women acting like little girls or mousy librarians or anything less than who they are.
How difficult was it to shoot the more brutal scenes, both as actress and director?
It was hard, for sure. It was harder, though, to watch Kate and Lake go through it. We established such a bond, it was hard to watch them get brutalized and even harder to ask them to do it again and again.
Filming experience - did that involve camping out on Black Rock? Were you able to relax once cameras stopped rolling, or were the evenings as creepy as the days?
Thankfully, no! We shot a couple of the big scenes (the girls' fight in the woods, walking on the beach, the final fight) on an island called 'Flint Island' and we would wake up at 4am and all load onto two lobster boats and take the 30 min trip out there and then at the end of the day, load everything back on the two boats and go home. Everything else we shot on the mainland. But what was great is that we were all staying together - the girls and I in one house, the boys in another, the crew in their own house - so it was a great environment for everyone to unwind and un-creep from the day.
'Black Rock' is in UK cinemas from