Gus Poyet learnt of his sacking as the Brighton and Hove Albion manager live on BBC TV on Sunday night.
Brighton revealed Poyet's three-and-a-half-year tenure had been terminated following a decision by the Championship club's internal disciplinary panel into an undisclosed matter.
The statement claimed the club had informed Poyet of the decision, however, the Uruguayan denied that live on air after learning the news while acting as a pundit on the BBC for the Confederations Cup.
Poyet, who will appeal his dismissal, said it was only when BBC staff handed him a copy of the Brighton statement while on set during the first half of the match between Spain and Nigeria that he discovered his fate.
"I think the BBC have a great story forever, because a manager getting information that he is being released from his employment by the BBC is quite surprising," he said.
"I have had no communication, no texts, no email. I didn't receive anything on my phone so it is all up to you and the timing.
"The only thing I'm concentrating on is the appeal. I will appeal because it's the right thing to do."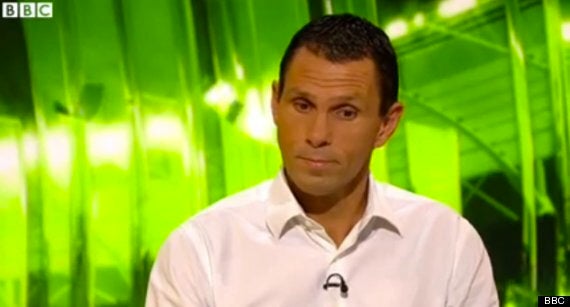 Poyet was a pundit for the BBC on Sunday night
Those comments were made at the half-time interval and Poyet confirmed after the full-time whistle the club had belatedly made contact.
Brighton have not commented on the reasons for the disciplinary action against Poyet and the former Chelsea midfielder opted against shedding light on the matter.
The 45-year-old, assistant manager Mauricio Taricco and coach Charlie Oatway were subsequently told to stay away from the club in the wake of a disciplinary hearing, although Taricco's ban has since been lifted.
Poyet said he had not expected yesterday's decision, which came after a disciplinary hearing had to be adjourned last week after he opted not to attend.
The Seagulls' statement read:
"Gus Poyet has been informed by Brighton & Hove Albion football club's internal disciplinary panel that his employment has been terminated with immediate effect," the club's statement read.

"This followed his suspension, an investigation, and a subsequent formal disciplinary process.

"In line with the club's own procedures, and UK employment law, Mr Poyet now has a right of appeal. As such, the club will make no further comment on this matter or recent LMA statements at this time.

"Given the close proximity of the new season, the club will, in conjunction with its board, now seek to appoint an interim manager pending the outcome of a possible appeal.

"The interim manager will oversee the initial weeks of pre-season preparation alongside the club's existing staff."