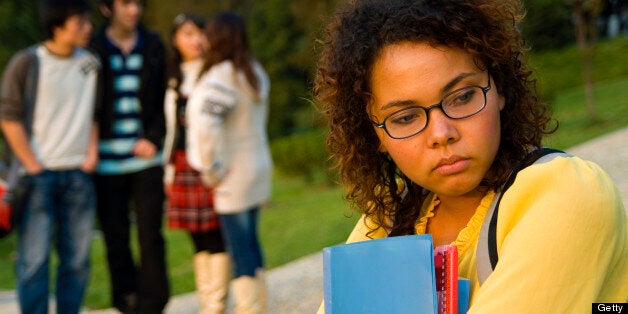 Universities are relegating overseas students to "de facto ghettos", leaving one in five feeling "isolated" and alone, a survey has revealed.
The research found international students are often highly segregated with 40% spending most of their time with students from their own country. Many feel their universities treat them as cash cows, with almost a third agreed with the statement: "my university is only interested in the fees I pay."
The poll, conducted by YouthSight for Regent's University London, also revealed more than half say they feel unwelcome in the country due to the government's migration policy. The results come after Universities UK claimed British universities had suffered declines in the numbers of students from countries outside the European Union.
The government wants to reduce net migration from outside the EU to less than 100,000 by 2015, including international students.
Professor Aldwyn Cooper, vice-chancellor at Regent's University London, a private and not-for-profit higher education institution, said there are "worrying" signs that the government's approach is alienating overseas students in the UK.
He said: "This is being compounded by the tendency in some institutions for overseas students to be left in de facto ghettos, rarely mixing outside their national groups."
Kirat Raj Singh, vice president (education and welfare) at Birmingham City students' union, told HuffPost UK international students feel "alienated" at the university.
"In my experience, what we have seen is that International Students are asked to join University in the first week of September for an 'extensive induction programme'. This is a time when no other students are at University and no teaching takes place.
"These induction programmes are usually run by the University international office sometimes in conjunction with the Students Union. After a week of welcome parties and signposting of where to get your local groceries from, they are put into an accommodation block which houses other international students. After this they are not specifically catered for. There is no induction with home students which would help many break the ice.
"They are expected to get involved themselves and attend freshers events with their own friends. This causes them to remain with their international friends, often feeling alienated from mainstream students and therefore don't get involved as much as they could or should. Of course they are exceptions to this but very rare."
As well as vice-chancellors, the government has faced pressure from MPs on the Commons Business, Innovations and Skills Committee to remove students from the net migration target.
The letter, signed by MPs including MPs Margaret Hodge and Keith Vaz, campaigned for "further action to encourage international university students to study in the UK".
"Doing so has the potential to support economic growth in the immediate and longer term, supporting jobs in university towns and increasing export earnings," the letter read.
"International students who study in the UK also build relationships which last over time, laying the foundations for future business opportunities in emerging economies, and supporting our foreign policy objectives."
Daniel Stevens, international students officer for the NUS told HuffPost UK: "I think that 'ghettoes' is too harsh a description. Students in new cultures often find integration challenging, and tend to stay in their comfort zone which could be their own national circle.
"The same behaviour is true of British students who study abroad. That's why institutions which recruit international students need to make a proactive effort to explain the benefits of integration between UK and international students. International students need to have programs to build their confidence and UK students need to understand the immense benefits they gain from interacting with international students.
"It's an immense challenge, but it's a shame that time has to be taken away from championing this agenda in favour of campaigning against ridiculous and political immigration restrictions for international students."
A spokeswoman for the Department for Business, Innovation and Skills admitted there was a need to demonstrate students were welcome to study in the UK and added there is "no cap" on the number of legitimate overseas students.
"We need to ensure that the message gets through that they are fully welcome in the UK to study," she said. "Our universities are second only to the USA as the favoured destination for international students, and to maintain this strong appeal around the globe the government is developing an industrial strategy to ensure our universities stay ahead in the global race."
The YouthSight poll consisted of interviews with more than 500 overseas students from 105 UK higher education institutions.