The two-day-old boy, who still had his umbilical cord attached, was found wrapped in plastic bags inside a building in the east coast city of Alicante, Spain.
It is believed he had been in the drain for up to 40 hours before he was found.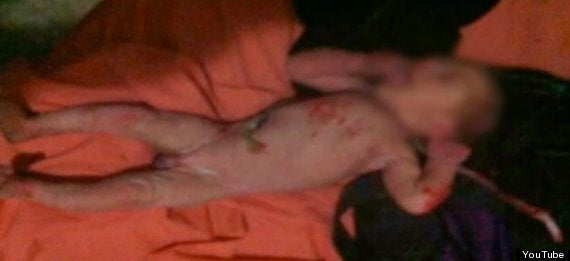 The baby boy was rescued by fire crews after spending up to 40 hours in the drain
The mother is 26-years-old and has been arrested on suspicion of attempted murder, Spain's Interior Ministry said.
The alarm was raised after neighbours alerted fire crews on Sunday morning to what they believed was a mewling cat trapped in the drains, The Telegraph reported.
Investigators told Sky News the woman had been admitted to hospital on 21 June where she told staff she had suffered a miscarriage.
She later told police she had tried to get rid of the baby but did not have enough money for an abortion.
The authorities are now looking into whether she acted alone or if a third party was involved.
The little boy, who weighed 2.1kg, was in a "serious but not life-threatening" condition, and has a fractured arm, among other injuries, the Associated Press said.
Popular in the Community