Police continue to question the brother of a British engineer shot dead with his wife and mother-in-law in the French Alps, over the alleged fabrication of his late father's will.
Zaid Hilli was arrested yesterday on suspicion of conspiracy to commit murder after officers uncovered evidence to suggest he doctored documents to ensure he inherited the estate, French officials said.
Hilli, 54, has previously denied any feud with his sibling over an inheritance.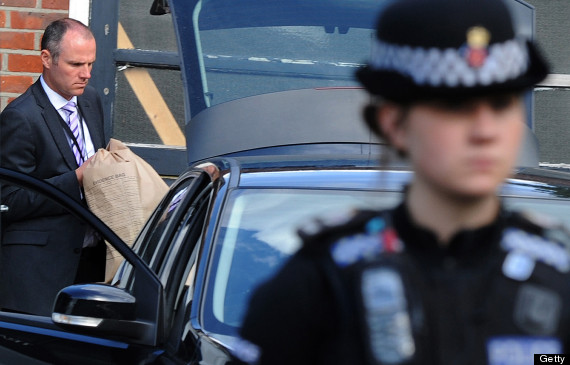 A police officer carries an 'evidence bag' from the home of the Hilli family, the British family shot in their car in the French Alps, in Claygate, Surrey
Detectives searched his home in Chessington, Surrey, and were later seen leaving the property with a plastic box, a ladder and two bags.
Eric Maillaud, Annecy's public prosecutor, said police would now try to establish any link between the alleged fraud and the brutal attack which killed Saad and Ikbal Al-Hilli, Mrs Al-Hilli's mother Suhaila al-Allaf, and local man Sylvain Mollier.
"We know there was a dispute between the two brothers over their father's will," he said.
"There are a certain number of documents that suggest Zaid attempted to fabricate his father's testimony in his favour.
"It looks like he tried to take the fortune for himself. That did not work but we want to ask him questions about it."
Maillaud said detectives were aware of the allegedly false documents from an early stage in the investigation.
The arrest is the first significant development in the inquiry following the attack on a remote mountain road close to Lake Annecy on September 5.
Around 100 police officers in Britain and France have been tasked with investigating the killings. French investigators travelled to the UK last year to search the al-Hilli family home in Claygate, Surrey.
Their inquiry has focused on three lines of inquiry: Mr al-Hilli's work, links to his native Iraq and his family.
Reports of a dispute between the brothers emerged soon after the massacre and led Hilli to approach police to deny any suggestion of an argument over the will.
Ahmed Al-Saffar, the brother of Mrs al-Hilli's dead mother, issued a statement in the aftermath of the deaths to say both the al-Hilli and Al-Saffar families were heartbroken by the killings.
''We hope that those responsible for the deaths of our loved ones are brought swiftly to justice," the statement said.
Surrey Police said a 54-year-old suspect was detained following a pre-planned arrest at an address in Chessington at around 7.30am.
The unnamed suspect was taken into police custody to be questioned.
One man who lives in a neighbouring flat described Mr Al-Hilli as unassuming and a "lovely man".
Philip Davies, who lives in the flat below Mr Al-Hilli, said he saw police at the address "on various occasions".
He said of his neighbour: "Nobody really has had anything to do with him. He's been living here about a year or 18 months."
Detectives investigating the massacre appealed in April for help to trace a vehicle seen close to the scene just before the deaths.
Officers said they were keen to speak to the owner of a right-hand drive 4x4 vehicle, possibly a grey, black or dark-coloured BMW X5, which was being driven on the Combre d'Ire Road, Chevaline, at about 3.20pm on September 5.
The attack came as the Al-Hilli family holidayed at a campsite near Annecy, in south east France.
The four bodies were discovered by cyclist Brett Martin who arrived at the scene to find Mr Al-Hilli, 50, his 47-year-old dentist wife and her elderly mother blasted to death in their BMW. He found the al-Hillis' seven-year-old daughter Zainab ''stumbling'' around, bleeding and ''moaning'' near the car after being shot in the shoulder and beaten.
Her four-year-old sister Zeena lay hidden under her mother's corpse and was only discovered eight hours after the murders.
The two children returned to the UK soon after the killings.