Andy Murrayhas moved one step closer to lifting the Wimbledon trophy as controversy raged over players slipping on the manicured Wimbledon lawns.
The British No 1 sailed into the third round with a victory over Lu Yen-hsun during a day of shock exits and injuries.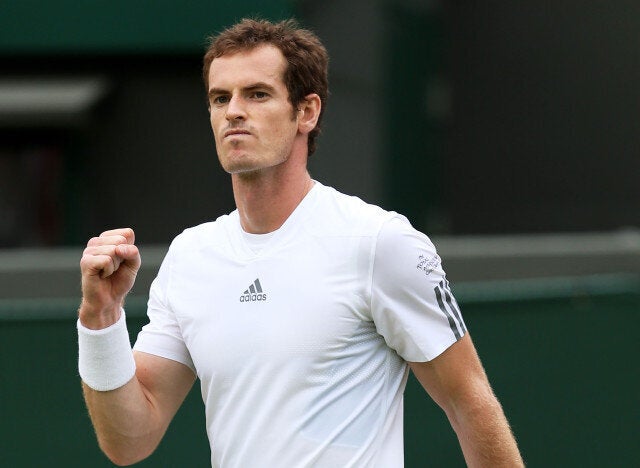 Murray is one step closer to lifting the trophy
Federer, 31, was pushed out by Ukrainian Sergiy Stakhovsky, 27, in a match which ended the Swiss player's run of 36 consecutive grand slam quarter-final appearances.
His wife, Mirka, appeared to wipe tears from her eyes as he bowed out following his loss to the relatively unknown player, ranked 116 in the world.
The defeat is Federer's earliest at Wimbledon since he was beaten in the first round in 2002.
World No 3 Maria Sharapova also crashed out after a noisy match in which she strained a muscle after loosing her footing on three occasions.
The Russian, who was seen mouthing what appeared to be the words: "This court is dangerous" during the match, later described conditions on the court as "slippery".
But she was reluctant to blame the lawn on Court Two for her defeat.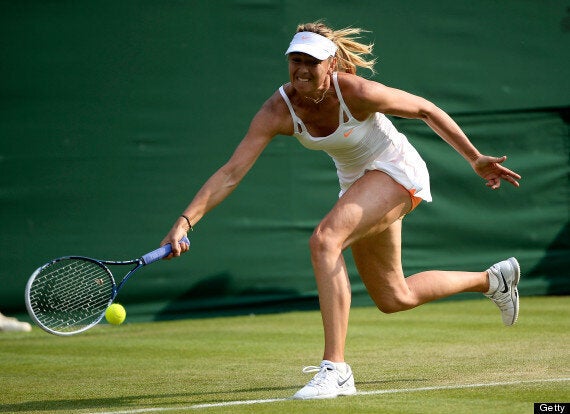 Maria Sharapova has crashed out of Wimbledon
Sharapova, 26, left the contest hours after second seed Victoria Azarenka - who was due to take on Italy's Flavia Pennetta - pulled out of the tournament because of an injured knee caused during a slip in her first round clash.
"The court was not in a very good condition," the 23-year-old Belarusian said.
"My opponent fell twice; I fell badly; there were some other people who fell after.
"So I don't know if it's the court or the weather."
She has called on the All England Club to investigate whether conditions may have caused players to tumble.
"It would be great if the club or somebody who takes care of the court just would examine or try to find an issue so that wouldn't happen," she said.
"There is nothing I've done wrong that cost me to just withdraw from Wimbledon."
Other players who have fallen since the tournament began include Novak Djokovic, Dustin Brown and Caroline Wozniacki.
The All England Club today insisted the courts were no different from any other year and were always more "lush" during the early stages of the tournament.
Head groundsman Neil Stubley, who took over his role this year, is charged with ensuring the immaculate lawns are kept in pristine condition.
He is said to have been working for the club for nearly two decades and was "effectively running the show" before the departure of his predecessor, a spokesman said.
The issue of slippery courts was raised as Jo-Wilfried Tsonga pulled out due to injury and Murray was cheered to victory on a packed Court One, watched by his mother Judy and girlfriend Kim Sears.
Shouts of "Come on, Andy" rippled through the crowd while hundreds of supporters basked in the sunshine on "Murray Mount" to watch the match.