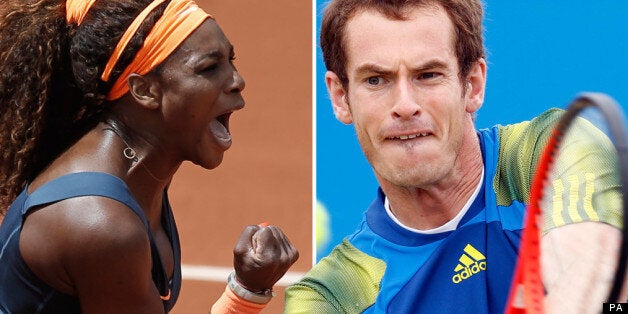 Serena Williams has accepted Andy Murray's challenge to a match in Las Vegas - but the Wimbledon champion doubts she would win a single point.
Murray, 26, was equally sceptical about his chances but Williams has now suggested he should play with a handicap.
The American, who has 16 Grand Slams under her belt, agreed to the match following her victory today over French player Caroline Garcia.
On hearing of Murray's challenge, she said: "He wants to play me? Is he sure? That would be fun. I doubt I'd win a point, but that would be fun."
She added: "He's probably one of the top three people I definitely don't want to play. But, yeah, maybe we can have a little bit of a showdown. That would be fine.
"I get alleys. He gets no serves. I get alleys on my serves, too. He gets no legs."
Williams, 31, said the match would also have to take place on clay because Murray "loves grass".
Twitter user Tom Carswell threw down the challenge in a message to Murray earlier this week.
"I recon (sic) serena williams could beat u on grass... And I'm not even joking," he said.
The Scot responded: "me too! Maybe we can set it up one day and see how close I get."
He suggested the US gambling capital as a potential venue.
"I have been challenged by someone on Twitter to taking on Serena Williams," he wrote in his BBC Sport column.
"I'd be up for it, why not?
"I've never hit with her but she's obviously an incredible player and I think people would be interested to see the men play against the women to see how the styles match up."
Murray would be expected to defeat Williams, who won Wimbledon and double Olympic gold at the All England Club last year.
A high-profile match between a male and female player drew worldwide attention in 1973 when then 55-year-old Bobby Riggs, a tennis superstar of the 1930s and 1940s, took on Margaret Court and Billie Jean King.
The latter, which took place in Houston, was dubbed the "Battle of the Sexes".
Riggs beat Court but was defeated by King, with their match the central act in a new documentary film.
In 1992, Jimmy Connors defeated Martina Navratilova in Las Vegas.