Another fundraising row threatens to engulf the English Defence League after a cancer charity pulled a fundraising page for a two-year-old girl suffering from neuroblastoma.
The EDL's Tommy Robinson and Kevin Carroll had announced a fundraising walk for toddler Amelia-Mae Davies, whose family are hoping to get treatment for her in the US for the rare cancer.
Amelia-Mae has a large tumour in her abdomen and more tumours in her liver, glands and bones including her skull and bone marrow, and despite months of treatment in the UK, her parents want her to receive immunotherapy treatment in the US, not available in the same format in the UK.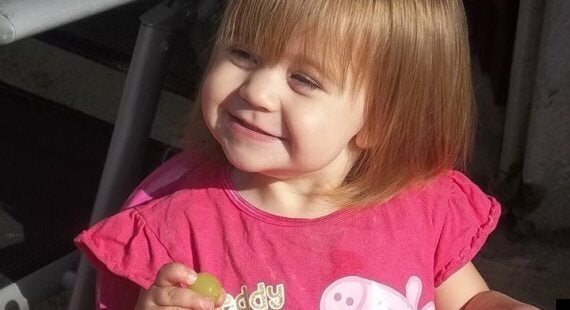 Amelia-Mae Davies, the toddler for whom Tommy Robinson planned to raise money
Her parents, Angela and Steward Davies, hope to raise £250,000 for the treatment abroad, and have already collected around £60,000 on their Just Giving page.
A spokeswoman for the Neuroblastoma Children's Cancer Alliance told HuffPost UK that the charity would reimburse the money raised by the EDL and said the charity is "politically neutral and, as such, is not associated with the EDL and its fundraising activities."
Ultimately, it is our goal to prevent families like Amelia-Mae's being in the position of having to fundraise desperately to pay for treatment abroad," she continued.
The NCCA UK will continue its efforts to help families access available treatment while making more options available here in the UK through its INBRC research collaborative.
"The NCCA UK has offered to reimburse Amelia-Mae's appeal with the money raised by by Tommy Robinson so far (£5798.87) from the charity's general funds."
A separate Just Giving page to raise money for Amelia Mae was set up by the EDL's Helen Gower, but has now been removed by the fundraising company.
The EDL had announced on its website that Robinson and Carroll would complete a "walk of Honour from the 51 Pillars in Hyde Park via Buckingham Palace to Woolwich where flowers will be laid in memory of Lee Rigby [the soldier brutally murdered in Woolwich last month].
"We spent £8m on a millionaire's funeral, Maggie Thatcher. We spent £2m on that scumbag Qatada, £600m aid to Pakistan to harbour Bin Laden," the EDL fundraising page, now defunct, said.
"To say that there's a price being put on saving a child's life — an ENGLISH child's life — is criminal."
"There's over 80 million people registered on the NHS in this country [sic] and there's only 60 million people in this country. So we have NHS tourists coming in and using our NHS and we have English girls not getting funded to save their lives."
The Davies family did not respond to the Huffington Post UK's request for comment, but posted a message on their Facebook page asking that their fundraising not be politicised.
It read: "Thank you everybody who is behind Amelia-Mae, fundraising, donating, sharing and liking her page - love to you all.
"I would just like to clarify that we have friends and family of all nationality and love them all, we have no political views.
"All any of us want is just as much help as possible to get medical help needed for a struggling little girl who deserves to live a life."