Nudists across England were wringing their sleeves (well they would have done if they had any) following the announcement that Holkham Beach in Norfolk was to officially ban nudists from its shores from 1st July. In response to the nudity ban, Visit England have published their list of where to go if you're finding clothes a bit of a bother.
Get your kit off for cats
On 15 August, ZSL London Zoo is encouraging fundraisers a one-off chance to run nude through the heart of the zoo. With only 300 Sumatran tigers (a group of which is called a 'streak' – geddit?) left in the wild, the zoo is hoping courageous streakers will rise to the challenge and raise funds to help the charity continue its vital conservation work.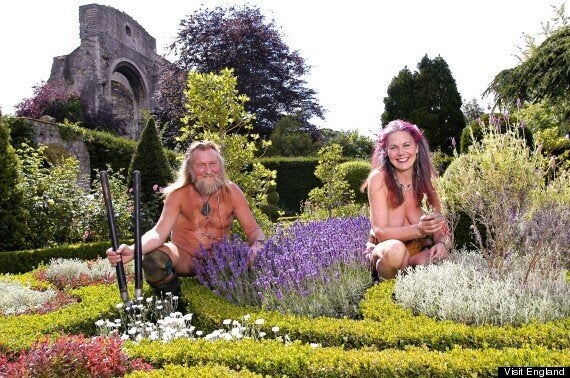 Naked gardeners Ian & Barbara Pollard at Abbey House
Gardens - clothes optional
Abbey House Gardens in Wiltshire is famous for its naked gardeners, Ian & Barbara Pollard. The gardens, in ancient Malmesbury in Wiltshire, allow visitors to enjoy the decorative arts in all its forms by holding Clothes Optional days every year. If you dare to bare, the next Clothes Optional days are 7 and 28 July. And if all that nudity gets you a little hot under the (non-existent) collar then pop over to Swindon to cool down at Bare Swim – a place for naturists to enjoy a Turkish bath.
You can leave your hat on…
Watch six ex-steel workers from Sheffield get their kit off, up close and personal. The Full Monty, which premiered in Sheffield in February, will open in the West End next year for a limited run. Directed by Sheffield Theatre's artistic director Daniel Evans, the play has been adapted by Oscar-winning writer Simon Beaufoy from his own screenplay about six unemployed men who form a troupe of male strippers. The Full Monty will begin previews at the West End's Noel Coward Theatre on 20 February 2014.
Celebrate your last night of freedom
No, not stripping. For hen parties, hire a cottage and host a girls night in with a male model. Hen Life Drawing rents out male models by the hour for hens to practise their life drawing skills. It's completely different to hiring a stripper, the model poses and instructs the group whilst the hens are encouraged to draw, not scream.
To truly embrace the nudist theme (although your mates may need some convincing), hire out naturist accommodation. Pevors Farm Cottages in Essex offer four star accommodation including a hot tub and indoor heated pool. Set on a 400 acre farm on the Essex/Suffolk border, guests can freely walk around the meadow and bluebell woodland to literally be at one with nature, or they can hang out in the first floor Gallery playing carpet bowls stark-naked.
Holkham Beach might be a no go for naturists but England has plenty of other nudist beaches on offer. Our only piece of advice is; don't forget the sun cream! Brighton East Beach continues to attract big crowds due to the relaxed nature of the town. Pednvounder Beach in Cornwall lets naturists and swimsuit-wearers mix happily together, while Blackgang Beach on the Isle of Wight has a nudist section called Rocken End.
If you fancy making a break of it, there's a naturist campsite, Valerian Sun Club, just a half-hour drive away. Finally, the most northerly naturist beach in the country, Ross Back Sands, offers stunning ocean views and dunes to shelter in should the wind kick up. It can get a little nippy in Northumberland though, so here's hoping for a warm summer...
To find your nearest naturist beach check out thewebsite.