Director Sofia Coppola has revealed that Paris Hilton was really helpful in making 'The Bling Ring', despite being a real-life victim of the crimes depicted in the big screen drama.
The famous socialite, often depicted in the press as somewhat of a self-absorbed diva, was one of the highest-profile victims of burglary by the gang, who checked on the internet where their A-list targets would be, before targeting their houses for clothes, jewellery and other items.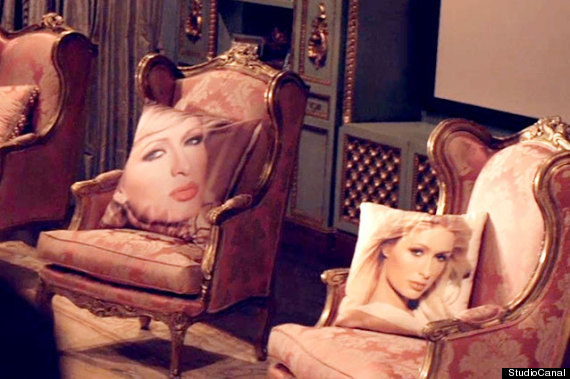 What the Bling Ring discovered when they went into Paris Hilton's house, recreated for the film
Coppola tells HuffPostUK that Hilton could not have been cooperative, showing the crew all her security footage, letting them film in her actual house, and then taking a cameo role in the film.
"I really liked meeting her. I think she respected me, and wanted to be helpful," says Coppola.
The Oscar-winning director of 'Adaptation' was equally impressed by Emma Watson, who continues to transform herself with ease from child star to adult actress.
"I wouldn't have thought of her," muses Coppola, "but my casting director persuaded me, and she had a smart take on the subject.
"I was impressed that she could transform herself so much. The character could easily have turned into a cartoon, but she made her real. I think she's really talented."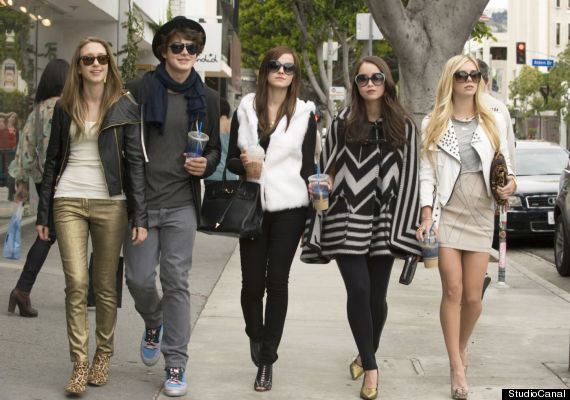 Emma Watson (centre) is one of the stars of 'The Bling Ring', which doesn't seek to judge the actions of the gang that targeted Hollywood's A-list
Coppola, with her blood line, is perhaps uniquely placed to make this film - both comfortable and familiar with the world of celebrity and assymetric attention being foisted on a few, but with the quirky angle we've come to recognise in 'Adaptation', 'Marie Antoinette' and 'Somewhere'.
But she confounds any sense that this must mean she sides with the privileged victims...
"I was trying not to be judgemental. I don't want to tell them to think, I don't like movies that do that.
"It's not for me to blame. Celebrity used to be such a small part of people's upbringing, and now it dominates. And you see with these characters in particular, that the parents aren't really involved...
"They're so young, trying to figure out who they are, and they're getting all these messages that products are good."
As a rare but longtime subject of the same kind of attention in the tabloids, is Coppola immune to it herself?
"After this movie, I've definitely overdosed on tabloid culture," she grimaces, "but it's fun to look at once in a while, a guilty pleasure.
"But the fact that they were taking it so seriously and so focused on it was the problem."
Of course, we've seen in Hollywood that life has a way of going full circle which, in this case, means the young characters being depicted going after a life of other people's glamour, could end up walking down their very own red carpet, if this film brings them fresh renown. Coppola dismisses this idea...
"I doubt their lives are going to become very glamorous after this. I think they had a fun time, but I don't think it worked out so well."
And the victims?
"I wasn't really thinking about the victims. Nobody wants to be violated like that, but they have so much stuff, it's hard to feel sorry for them."
The Bling Ring is in UK cinemas from Friday 5 July. Watch the trailer below...