More than 200 firefighters are tackling a large blaze at a recycling plant which was apparently caused by Chinese lanterns which flew over and dropped on plastic.
Speaking to the BBC, West Midlands Fire Service's chief fire officer, said the man made lanterns could be to blame.
Around 50,000 tonnes of recycling material are involved in the fire at J&A Young in Smethwick, West Midlands.
West Midlands Fire Service said it had more than 35 appliances at the scene of the blaze in Dartmouth Road.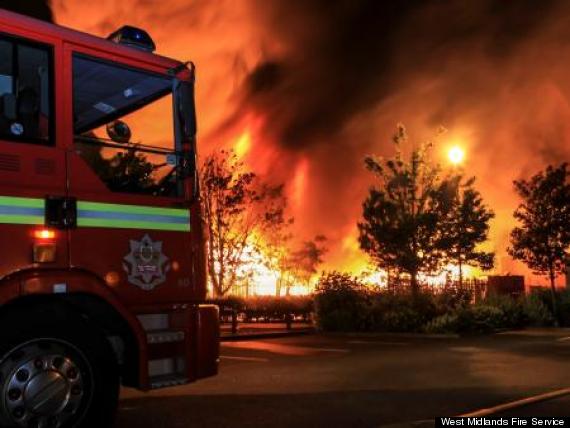 The blaze is still being dealt with by more than 200 firefighters
Emergency services were called to reports of a fire at around 11pm last night.
Nearby residents have been advised to keep their windows and doors closed as a precaution.
A West Midlands Fire Service spokesman said: "We are currently dealing with a very large and dramatic recycling fire in Smethwick.
"Due to the intensity of the fire, the smoke plume is rising 6,000ft into the air, which may affect air travel."
Nine firefighters are believed to have needed treatment for injuries.
West Midlands Ambulance Service confirmed that nine patients were treated at the scene.
Three of the casualties, who suffered minor injuries, were taken to hospital as a precautionary measure, a spokesman said.
The rest were treated by paramedics at the scene and and discharged, he added.
A spokeswoman for Birmingham Airport confirmed the blaze was not affecting flights.
She said: "Operations are continuing as normal and the fire has had no impact on any of our services."