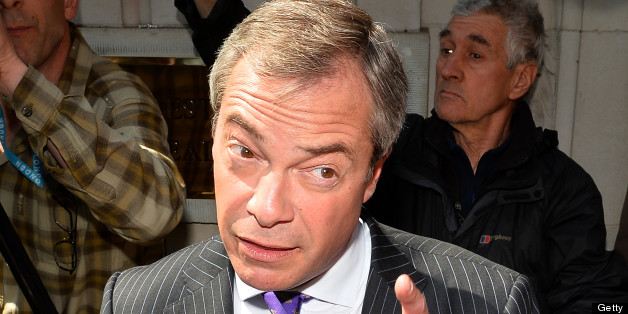 Getty
For a man who spends much of his life willingly being followed by cameras, Nigel Farage has a rather irrational fear - people tracking where he is going.
The Ukip leader has revealed he refuses to buy an Oyster card and purchases a regular day ticket instead, for fear of his movements being tracked.
Privacy campaigners backed his stance, saying Oyster cards are a "new way of tracking our behaviour."
The fact an Oyster card can be bought without registering your name was not enough to assuage Farage's fears.
Speaking to regional lobby journalists in London, the Ukip leader said: "Well you never know. They are tracking your movements, dear boy, they can," the Western Morning News reported.
Labour MP Stephen Pound told the Evening Standard Farage showed "an interesting level of paranoia" and suggested an Oyster card might show him "on the District Line to Barking - his natural constituency".
A Ukip spokesman told The Huffington Post UK Farage had raised the issue during a discussion about surveillance and the recent NSA snooping scandal.
He questioned the official explanation, that journey details are held for eight weeks, and confirmed Farage buys himself an individual ticket every time he takes the tube.
Nick Pickles, director of privacy campaign group Big Brother Watch, told The Huffington Post UK: "Oyster cards are a useful bit of technology, but as with all sorts of other forms of technology they offer a new way of tracking our behaviour.
"Contactless payment is yet another way for companies, whether Oyster or banks, to monitor what we are doing and sell that data on.
"Particularly for figures in the public eye there is a risk, as we have seen all too clearly in recent years, that access to information could be abused for a variety of reasons."
Oyster or no Oyster, a trip around London is apparently a struggle for Farage.
Not only does he have to be constantly vigilant for the nearest pub to drink/seek refuge in but he also has to monitor his electronic footprint.
Obviously the nation's spooks and evil-doers would never work out how to use the world's most comprehensive and sophisticated CCTV systems to track one of the country's most recognisable faces.
Still it must be nice to afford the option of buying a day ticket which costs up to twice as much as the Oyster equivalent.
On Tuesday Farage also spoke of a 'gathering electoral storm' whilst addressing the European Parliament.
Find out what he said in the video below...
LIKE HUFFPOST UK POLITICS ON FACEBOOK | FOLLOW US ON TWITTER