David Cameron has joked that Russian president Vladimir Putin wanted a "bare-chested dress-code" at last month's G8 summit.
The British prime minister, who hosted the two-day event in Co Fermanagh, Northern Ireland, made the tongue-in-cheek remark at an awards dinner for businesses in London on Tuesday night. 'No Putin, I won't take my top off'
Referring to the famous photo of the Russian statesman bare-chested in the snow, Mr Cameron also mocked his own dress-code at the G8 summit in which he was pictured without a tie.
LIKE HUFFPOST UK POLITICS ON FACEBOOK | FOLLOW US ON TWITTER
Speaking at the Business in the Community Responsible Business Awards at the Royal Albert Hall, Mr Cameron said: "I know some of you think I was dressed a little bit scruffily - should've worn a tie.
"But you didn't know what was going on behind the scenes. Vladimir Putin wanted the dress-code to be bare-chested on horseback.
"I just had to haggle him down to smart-casual."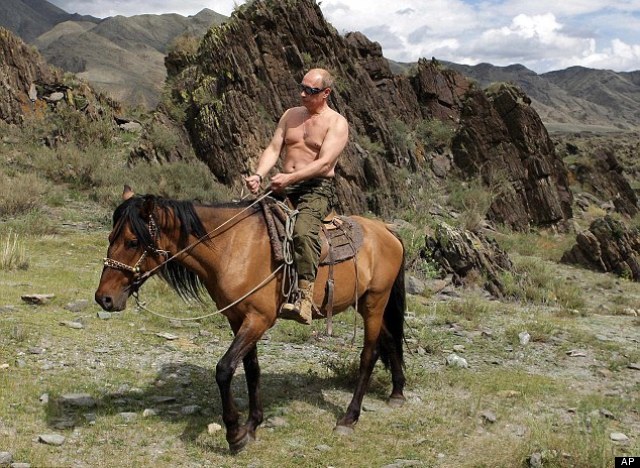 Putin has appeared topless in a number of PR shots
The joke prompted laughter from within the grand performance hall, in which around 1,000 business leaders were present.
The PM also draw laughs when he adopted an American accent in recalling a recent incident in New York.
Cameron said "no-one had a clue" who he was until someone came up and said: "Hey! Cameron! Prime Minister's questions - we love your show."