It has been known that doing crossword puzzles and Sudoku helps reduce the risk of Alzheimer's, but scientists have found that it can also help stave off the broader spectrum of dementia.
Around 800,000 people in Britain suffer from dementia (62% of those have Alzheimer's), and scientists said that unfamiliar mental stimulus (like a puzzle) can stimulate neuron growth in parts of the brain.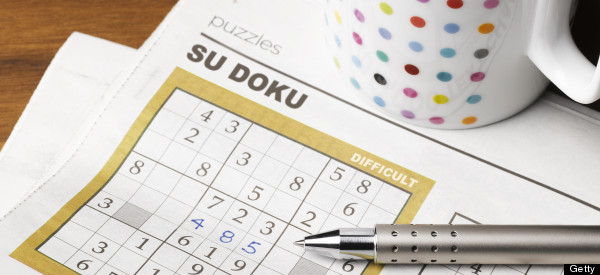 A new study, published by Neurology, explains that this also can extend to reading books and writing letters. It adds further evidence to the belief that lifestyle factors can affect how soon you get dementia, if at all.
MORE ON HUFFPOST UK:

Dementia Sufferers Could Be Helped By Personalised Fragrances
In a US study, reported by the BBC, 294 people over the age of 55 were given tests that measured memory and thinking, every year for about six years until the died. They were asked extensive questions about their lifestyle, whether they read, did puzzles, how active they were and whether they took part in other activities that were mentally stimulating. They then examined their brains to see the physical evidence of dementia.
The study found that after factoring out the impact of those signs, those who kept their brain busy had an estimated 15% slower rate of cognitive decline than those who did not.
However, keeping the brain active is also something that should be done by people who aren't in their fifties and sixties yet, According to the Alzheimer's Society, around 17,000 younger people also have dementia in the UK.
Dr James Pickett, head of research at the Alzheimer's Society, said: "More research and bigger studies are needed, but in the meantime reading more and doing crosswords can be enjoyable and certainly won't do you any harm.
"The best way to reduce your risk of developing dementia is to eat a balanced diet, exercise regularly and maintain a healthy weight."
Great brain food ideas from HuffPost US: