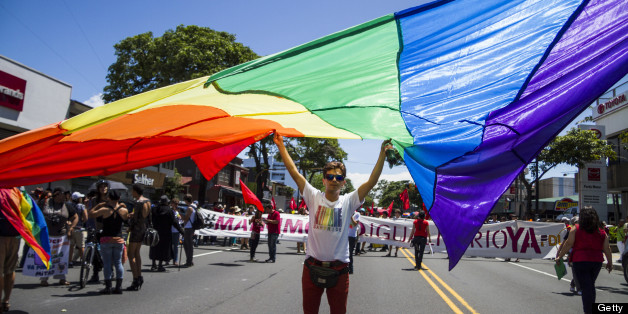 Getty
Costa Rican politicians may have accidentally voted in favour of gay marriage, prompting ire from conservative lawmakers, who say they feel "deceived."
Lawmakers voted in favour of a bill which establishes the right to "recognition without discrimination contrary to human dignity," realising too late that this would allow same-sex couples the right to marry.
A previous version of the bill, titled the "Law of Young People," stated that unions were only recognized between a man and a woman.
The new language was inserted by lawmaker José María Villalta from the leftist Broad Front Party, who claimed no one had objected during a debate on the matter.
However some conservative politicians are now calling on Costa Rican president Laura Chinchilla to veto the bill.
Lawmaker Manrique Oviedo, who previously opposed same-sex unions says "feels deceived" and "he made a mistake" when he voted for it.
Deputy Justo Orozco said the case would have to be looked at carefully because "you can't give rights to those who don't deserve them."
Politician Carlos Avendaño, said the measure is a "mirage" and as the law has already established that marriage is for a man and a woman, the reference there is "for heterosexual partners."
José María Villalta told La Nación that "politicians approve projects without reading them through," and that the bill's passing would "open the door for recognising the rights of same-sex unions."
If Costa Rica decides to approve same-sex marriage it will be the sixth Latin American country to do so. Argentina and Uruguay recognize gay marriage, while Brazil, Colombia, and Ecuador recognize same-sex unions, according to the Washington Post.