A three-foot-long lizard has been found abandoned in the toilets of a Scottish Asda store.
The female bosc monitor – now aptly named Lulu – was found wriggling out of a white sack in the disabled toilets on Thursday and is now being cared for by the Scottish SPCA.
Rumel Miah had been about to lower his trousers when the reptile emerged from the sack.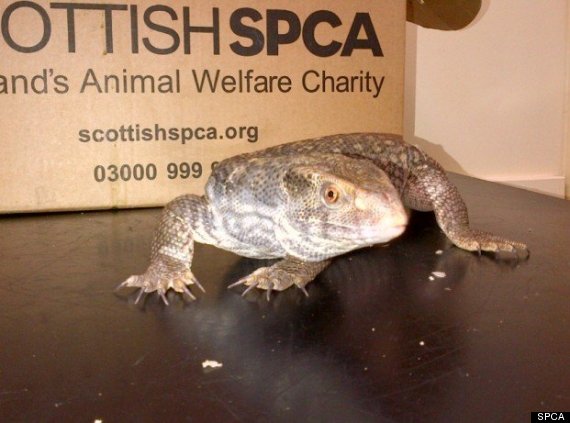 Lulu the female bosc monitor was found abandoned in the disabled toilets at a Scottish Asda store
He told The Sun: "At first I thought it was a crocodile or snake and I jumped out as quick as I could.
"It was scary. When you're going to the loo you don't expect to see a lizard crawling about."
Inspector June Chalcroft is appealing to members of the public who may have seen someone carrying a white sack in or around the store on Thursday.
She added: "In September 2011 I was called to rescue a bearded dragon which had been left in a white sack in the male toilets of Morrisons on Ferry Road, which isn't far from where Lulu was dumped.
"Unfortunately we never received the information we needed to identify the person responsible, but we do have to consider that these abandonments may be linked."